Celebrate 10 Years of the Black Gate Blog!
Celebrate 10 Years of the Black Gate Blog!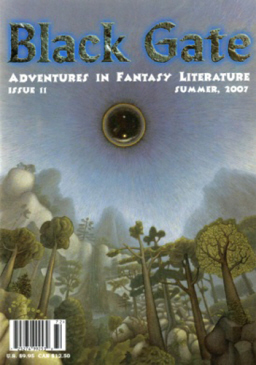 The Black Gate website was launched several months before the release of our first print issue at the World Fantasy Convention in Corpus Christi, Texas in October 2000. It was updated once a week (or so), until the site was completely revamped as a regular blog in 2007, shortly before the release of issue #11 in Summer 2007 (cover at right).
The architect of that redesign, Howard Andrew Jones, assembled a crack team of bloggers over the next few months — including Ryan Harvey, David Soyka, Mac Denier, Sue Granquist, Rich Horton, D. K. Latta, Mark Rigney, and E. E. Knight — but for the first few weeks he wrote everything himself. Including our very first blog post, on March 19, 2007, exactly ten years ago today. The title of that post was "Sword-and-Sorcery Musings," and here's how it started.
After mulling it over for some time, and after consultation with Black Gate Exalted Leader John O'Neill, I decided to try this whole blog thing with a first entry.

First things being first, I'm Howard Andrew Jones, Black Gate's Managing Editor… I know John will post here from time-to-time as well, so we'll do our best to let visitors know which one of us is doing the writing. Herein you'll find matters related to Black Gate, such as where we are with submissions and how soon the mag is coming out, and when new articles go live on the web site. It will also give us a chance to talk about other issues near and dear to our hearts.

I'll have a go with one of my own favorite topics: specifically, the writing of sword-and-sorcery.

While sword-and-sorcery is a relative to high fantasy, it is a different animal. High fantasy, mostly invented by William Morris as an echo of Sir Thomas Mallory and then popularized by J.R.R. Tolkien, moves for the most part at a slow, stately, pace, meandering gently from plot point to plot point, or, as is often the case, from location to location. Movie critic Roger Ebert has some astute observations on The Lord of the Rings, which I will quote here.
There was precisely one comment on that post, a pingback from something called "The Scrolls of Lankhmar." 8,355 blog posts and 10 years later, the Black Gate blog is stronger than ever, with a staff of 45 volunteers, and two Hugo nominations and a World Fantasy Award under our belt.
I'd like to take a moment to salute Howard for his vision all those years ago, along with those early bloggers who are still with us, especially Ryan Harvey, Sue Granquist, Rich Horton, and Mark Rigney. We owe them an enormous debt of graditude (also, a whole lot of back pay). Well done, team! Here's to another 10 great years.