Arin Komins on the September 2016 Locus
Arin Komins on the September 2016 Locus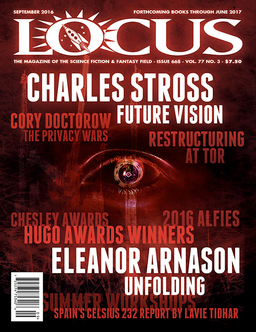 Locus magazine publishes a quarterly Forthcoming Books wrap-up, and have been doing so for at least the last 25 years, and the latest one appears in the new September issue. In years gone past I spent a lot of time pouring over those lists, making shopping lists and then calling Mark Zeising Books in California to make an order (or two). So reading the following brief post by my friend and follow book collector Arin Komins brought back a wave of nostalgia.
Spent the evening with the quarterly Locus Mag forthcoming books list in hand, highlighting happily (books to buy for the next 6 months or so.)

This will be followed by the quarterly pre-ordering frenzy, I suspect.

This says something sad about me, I am sure 🙁

It's funny how publishers catch and lose my interest, too. Finding less and less on the Tor list (with a few notable exceptions), and more and more on the Titan one. Still have a few holdouts with Ace, Roc, Del Rey, etc, but Pocket is all but dead to me anymore.

Still, well pleased to see a new Norman Spinrad coming… and 2 new Kim Newman books. A couple of new Ken MacLeod. The expected 2 new L.E. Modesitt Jr books (of which Recluce Tales is what I am most waiting on.). No new non-Star Wars Alan Dean Foster (sad!). A handful of fun looking anthologies. Jared's new book! New non-YA by Rachel. New Simon R. Green (Moonbreaker). Misc various others, including guilty pleasure reading (latest Cal Leandros book, newest Valdemar, Butcher anthology, new Chris Golden anthology, some Ari Marmell,etc.). Latest pretty thing from Charnel House that I won't be able to afford.

Ah the exciting life of a book fiend. Don't you envy me? (Hah!)
As a matter of fact I do, Arin! These days I spend all my time writing blog posts, and not nearly enough reading magazines. But I did recently renew my subscription to Locus. So that's a step in the right direction.
See all the details on the September 2016 issue of Locus here. We last covered Locus with the July 2016 issue.