New Treasures: The Interminables by Paige Orwin
New Treasures: The Interminables by Paige Orwin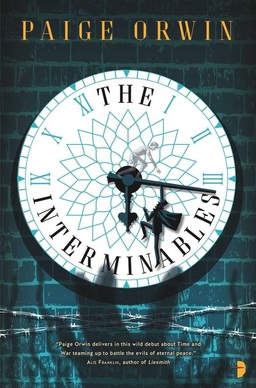 I find myself growing steadily more impressed with Angry Robot Books. I write only about the releases that interest me in my New Treasures columns, and in the last few months I've given more space to Angry Robot than any other publisher. Most intriguing of all, they're willing to take a chance on new and emerging authors, which means in the last few years they've introduced me to more exciting new talent than any three other publishers combined. Just in the last few months we've covered the exciting and award-winning fiction they published by Peter McLean, Rod Duncan, Matt Hill, Ferrett Steinmetz, Ramez Naam, Matthew De Abaitua, Peter Tieryas, Alyc Helms, and Foz Meadows — virtually all of it in affordable mass market paperback format.
Last month they released Paige Orwin's debut fantasy novel The Interminables, and it sounds like one of their most intriguing releases yet. Featuring two powerful agents of a wizard's cabal in a drastically altered Earth on a mission that lands them in a very dark place, it sounds a lot like the beginning of an exciting new series. Here's hoping.
It's 2020, and a magical cataclysm has shattered reality as we know it. Now a wizard's cabal is running the East Coast of the US, keeping a semblance of peace.

Their most powerful agents, Edmund and Istvan — the former a nearly immortal 1940s-era mystery man, the latter, well, a ghost — have been assigned to hunt down an arms smuggling ring that could blow up Massachusetts.

Turns out the mission's more complicated than it seemed. They discover a shadow war that's been waged since the world ended, and, even worse, they find out that their own friendship has always been more complicated than they thought. To get out of this alive, they'll need to get over their feelings, their memories, and the threat of a monstrous foe who's getting ready to commit mass murder…
The Interminables was published by Angry Robot on July 5, 2016. It is 416 pages, priced at $7.99 in paperback and $6.99 for the digital edition. The cover is by Will Staehle. Read the first chapter at B&N.