Black Gate Online Fiction: Truck Stop Earth by Michael A. Armstrong
Black Gate Online Fiction: Truck Stop Earth by Michael A. Armstrong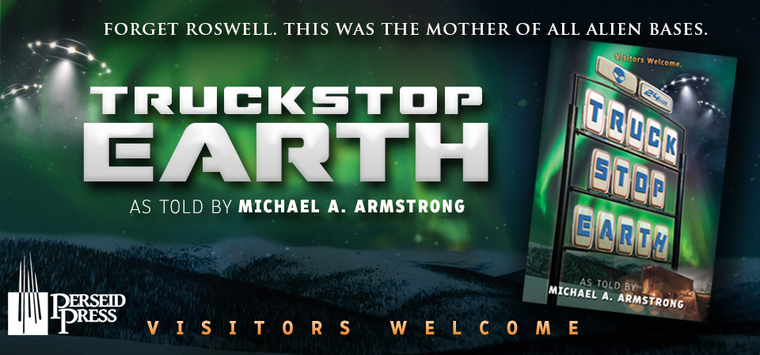 Black Gate is very pleased to offer our readers an exclusive excerpt from Truck Stop Earth by Michael A. Armstrong, published in deluxe trade paperback and digital formats this month by Perseid Press. Here's Janet Morris, publisher of Perseid.
Is Truck Struck Earth a memoir? Science fiction? New Pulp? Paranormal (or paranoid) fantasy? Noir in the Shaver tradition? UFOlogy? Magical realism? Social Commentary? Black humor? We dunno. But we're proud to bring you this tough, dangerous book that breaks every rule you thought separated true from false, good from bad, and literature from trash.
Michael A. Armstrong's first novel was After the Zap. His short fiction has been published in Asimov's, The Magazine of Science Fiction, Fiction Quarterly, and various anthologies, including Not of Woman Born, a Philip K. Dick award nominee, and several Heroes In Hell anthologies. His other novels include Agviq, The Hidden War, and Bridge Over Hell, part of the Perseid Press Heroes in Hell universe.
Here's the description:
Truck Stop Earth: The mother of all alien bases! The big one, the mega-base, the center of the Alien Occupation Government: the headquarters, the brain, the nerve center, the absolute pinpoint big base, is right here on Earth, just outside Della, Alaska. Forget Roswell. Forget Machu Picchu. Forget Stonehenge and Tikal and all those alleged alien bases — abandoned, every one of them. This is the big one, right here on Planet Earth, right now, the source of all the world's troubles, the whole solar system's troubles. Right here. Finally, the unflinching truth about aliens on Earth is exposed in Truck Stop Earth, as told by an alien abductee to award-winning reporter, Michael A. Armstrong.
The complete catalog of Black Gate Online Fiction, including stories by Mark Rigney, John Fultz, Jon Sprunk, Tara Cardinal and Alex Bledsoe, E.E. Knight, Vaughn Heppner,  Howard Andrew Jones, David Evan Harris, John C. Hocking, Michael Shea, Aaron Bradford Starr, Martha Wells, Nina Kiriki Hoffman, C.S.E. Cooney, and many others, is here.
Truck Stop Earth was published July 1, 2016 by Perseid Press. It is 292 pages, priced at $25.20 in trade paperback and $9.99 for the digital edition. A hardcover edition will be available in August.
Read more at the Perseid Press website.
Read an exclusive excerpt from Truck Stop Earth here.