Future Treasures: Disappearance at Devil's Rock by Paul Tremblay
Future Treasures: Disappearance at Devil's Rock by Paul Tremblay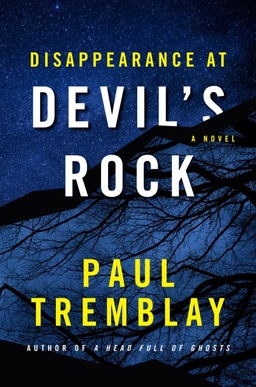 Paul Tremblay wrote what is easily one of the most acclaimed horror novels of last year, A Head Full of Ghosts, about a hit reality TV show that captures a real exorcism, and the investigation into what really happened, 15 years later. Nathan Ballingrud called it "Outstanding. Creepy, surprising, occasionally funny, always compassionate… one of the best horror novels I've read in years." Tremblay's follow up novel, Disappearance at Devil's Rock, arrives in hardcover next week from William Morrow, and needless to say, expectations are sky-high.
Late one summer night, Elizabeth Sanderson receives the devastating news that every mother fears: her thirteen-year-old son, Tommy, has vanished without a trace in the woods of a local park.

The search isn't yielding any answers, and Elizabeth and her young daughter, Kate, struggle to comprehend Tommy's disappearance. Feeling helpless and alone, their sorrow is compounded by anger and frustration: the local and state police have uncovered no leads. Josh and Luis, the friends who were the last to see Tommy before he vanished, may not be telling the whole truth about that night in Borderland State Park, when they were supposedly hanging out a landmark the local teens have renamed Devil's Rock.

Living in an all-too-real nightmare, riddled with worry, pain, and guilt, Elizabeth is wholly unprepared for the strange series of events that follow. She believes a ghostly shadow of Tommy materializes in her bedroom, while Kate and other local residents claim to see a shadow peering through their windows in the dead of night. Then, random pages torn from Tommy's journal begin to mysteriously appear — entries that reveal an introverted teenager obsessed with the phantasmagoric; the loss of his father, killed in a drunk-driving accident a decade earlier; a folktale involving the devil and the woods of Borderland; and a horrific incident that Tommy believed connects them.

As the search grows more desperate, and the implications of what happened become more haunting and sinister, no one is prepared for the shocking truth about that night and Tommy's disappearance at Devil's Rock.
Disappearance at Devil's Rock will be published by William Morrow on June 21, 2016. It is 336 pages, priced at $25.99 in hardcover and $12.99 for the digital edition. Read an excerpt at (of all places) the Wall Street Journal.