Future Treasures: Daughter of Albion by Ilka Tampke
Future Treasures: Daughter of Albion by Ilka Tampke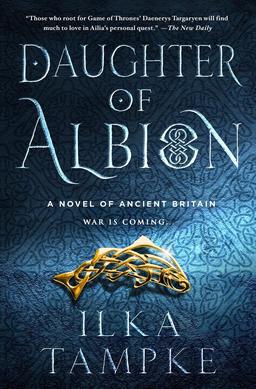 Ilka Tampke is an Australian author, and her debut novel was published in Australia last year under the title Skin, where it received a lot of attention. Now Thomas Dunne is bringing the book to American shores for the first time, with a new title: Daughter of Albion.
The tale begins in the village of Caer Cad in southwest Britain, AD 43, where a swaddled baby is found abandoned, just as the dark cloud of the Roman Empire begins to gather on the horizon. Drawing on Celtic British history, Tampke weaves a tale of Ancient Britain on the cusp of Roman invasion, the violent collision of two worlds, and a young woman torn between two men.
A baby girl is abandoned on the doorstep of the Tribequeen's kitchen. Cookmother takes her in and names her Ailia. Without family, Ailia is an outsider in her village, forbidden from marriage and excluded from learning. Despite this, she grows up an intelligent and brave young woman, serving the Tribequeen of her township until the day when an encounter with an enigmatic man named Taliesin leads Ailia to the Mothers, the tribal ancestors, who have chosen her for another path.

Ailia's growing awareness of her future role as the tribal protector and her relationships with the two very different men she loves will be utterly tested by the imminent threat of Emperor Claudius preparing to take the island.
Daughter of Albion: A Novel of Ancient Britain will be published by Thomas Dunne Books on April 19, 2016. It is 354 pages, priced at $25.99 in hardcover, and $12.99 for the digital edition. The cover was designed by Young Jin Lim.