New Treasures: Brutal Pantomimes by Rhys Hughes
New Treasures: Brutal Pantomimes by Rhys Hughes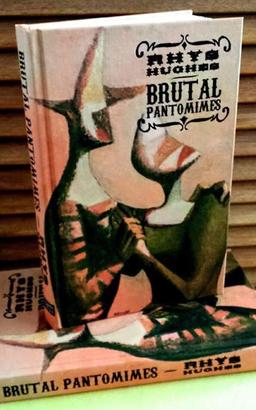 Rhys Hughes is an amazingly prolific short story writer with dozens of collections to his credit, including The Smell of Telescopes (2000), Nowhere Near Milk Wood (2002), and Bone Idle in the Charnel House (2014). His novels include The Percolated Stars (2003), The Young Dictator (2013), and Captains Stupendous (2014).
His latest is a handsome new collection of 10 stories (most previously unpublished) from Egaeus Press, with a cover by František Tichý and interior illustrations by Jacques Callot. Check it out.
Brutal Pantomimes contains ten tales of absurd exoticism, weird adventure and wild fantasy from the shockingly prolific and highly acclaimed Rhys Hughes. Most of the stories, novellettes and novella included have not previously been published and some are regarded by their author to be amongst his best works.

Enjoy pirate shenanigans, a globe of the Earth that is a voodoo doll, the dubious gifts of a Greek god, impossible angles, improbable sciences, impractical philosophies, a rare tropical yeti in a submarine and so much more. Featuring an introduction by Michael Cisco…

The book is a lithographically printed, 256 page sewn hardback with colour endpapers and cover by František Tichý, as well as illustrations throughout by Jacques Callot. It is limited to 300 copies.
Brutal Pantomimes was published by Egaeus Press on February 6, 2016. It is 256 pages, priced at £32.00 (including postage). The cover is by František Tichý. Order directly at the Egaeus Press website.
See all of our recent New Treasures here.