Last Chance to Win a Copy of Carter & Lovecraft by Jonathan L. Howard
Last Chance to Win a Copy of Carter & Lovecraft by Jonathan L. Howard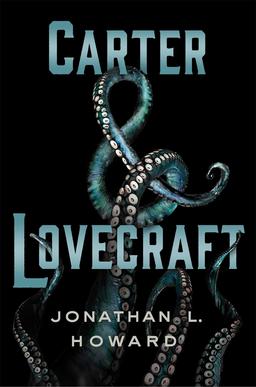 Last week, we told you that you had a chance to win one of two pre-release copies of Jonathan L. Howard's upcoming novel of Lovecraftian mystery, Carter & Lovecraft, on sale later this month from Thomas Dunne Books.
How do you enter? Just send an e-mail to john@blackgate.com with the subject "Carter & Lovecraft" and a one-sentence suggestion for the ideal Lovecraft team-up — and what dark horrors your dream team should investigate. That's it; that's all that stands between you and a copy of one of the most anticipated fantasy novels of the year. Two winners will be drawn at random from all qualifying entries and we'll announce the winners here on the Black Gate blog the week before the novel is released. What could possibly be easier? But time is running out — the contest closes shortly. Here's the book blurb:
Daniel Carter used to be a homicide detective, but his last case — the hunt for a serial killer — went wrong in strange ways and soured the job for him. Now he's a private investigator trying to live a quiet life. Strangeness, however, has not finished with him. First he inherits a bookstore in Providence from someone he's never heard of, along with an indignant bookseller who doesn't want a new boss. She's Emily Lovecraft, the last known descendant of H.P. Lovecraft, the writer from Providence who told tales of the Great Old Ones and the Elder Gods, creatures and entities beyond the understanding of man. Then people start dying in impossible ways, and while Carter doesn't want to be involved, but he's beginning to suspect that someone else wants him to be. As he reluctantly investigates, he discovers that Lovecraft's tales were more than just fiction, and he must accept another unexpected, and far more unwanted inheritance.
No purchase necessary. Must be 12 or older. Decisions of the judges (capricious as they may be) are final. Not valid where prohibited by law. Eat your vegetables. Carter & Lovecraft will be published by Thomas Dunne Books on October 20, 2015. It is 320 pages, priced at $25.99 in hardcover and $12.99 for the digital edition. See more details at Jonathan's website.