New Treasures: Angels & Exiles by Yves Meynard
New Treasures: Angels & Exiles by Yves Meynard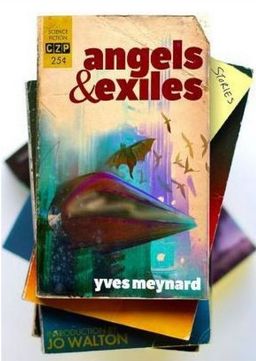 I first met Yves Meynard at the World Fantasy Convention in Montreal in 2001. He was already a rising star, and since then he's had a stellar career — his novel The Book of Knights was a finalist for the Mythopoeic Award, and when Tor published his fantasy novel Chrysanthe in 2012, Locus called him "[David] Hartwell's major discovery this year." This is his first collection.
In these twelve sombre tales, ranging from baroque science fiction to bleak fantasy, Yves Meynard brings to life wonders and horrors. From space travellers who must rid themselves of the sins their souls accumulate in transit, to a young man whose love transcends time; from refugees in a frozen hold at the end of space, to a city drowning under the weight of its architectural prayer; from an alien Jerusalem that has corrupted the Earth, to a land still bleeding from the scars of a supernatural war; here are windows opened onto astonishing vistas, stories written with a scientist's laser focus alloyed with a poet's sensibilities.
At Mary Robinette Kowal's blog, Yves offered this marvelous comment about how own search for wonder in fiction:
The natural world is an endless source of amazement; human culture all across the planet ceaselessly produces works of stunning beauty. You shouldn't need anything else to satisfy your need for wonderment… And yet it still twitches inside me, that urge for the miraculous. I read stories of the fantastic and write them myself, to assuage it. And I tell myself it's better to have it only inside of stories. Because if such a miraculous world were real, loaded with revelations and terrible marvels, a world in whose oceans swam hybrids and monsters, a world where everything was charged with transcendent meaning, and all our human conceits were true — that world would devour us.
Angels & Exiles was published by ChiZine Publications on February 26, 2015. It is 291 pages, priced at $16.99 in trade paperback and $7.99 for the digital version. The cover art is by Vince Haig, with a design by Samantha Beiko.