Vintage Treasures: Midnight Pleasures by Robert Bloch
Vintage Treasures: Midnight Pleasures by Robert Bloch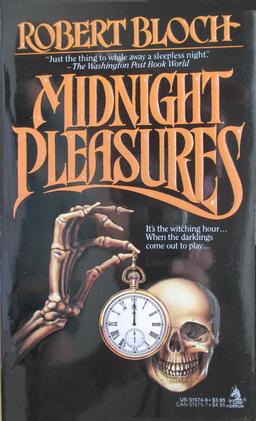 Robert Bloch isn't a name that gets tossed around much these days. Even before his death in 1994, he was primarily known as the author of Psycho, and this one fact overshadowed most of his other accomplishments.
But Bloch was also the author of hundreds of short stories, and over 30 novels, virtually all of which are out of print today. He was one of the most gifted and prolific short story writers in the horror field, and his best short stories are compact treasures. He won a Hugo Award for his 1958 story "That Hell-Bound Train," and multiple Bram Stoker awards (for the 1993 collection The Early Fears, the novelette "The Scent of Vinegar," and his 1993 memoir Once Around the Bloch.)
He received a World Fantasy Award in 1975 for Lifetime Achievement, and a Lifetime Achievement Bram Stoker Award in 1990.
Bloch was also one of the youngest members of The Lovecraft Circle, those writers who corresponded with and often consciously emulated H.P. Lovecraft. Lovecraft was one of the first to encourage Bloch's writing, and a lot of Bloch's early work for the pulps was Cthulhu Mythos fiction (most of which was gathered in his 1981 collection Mysteries of the Worm.)
Midnight Pleasures is one of Bloch's last fiction collections (two more appeared before his death: Fear and Trembling in 1989, and The Early Fears in 1994). It's a fine sample of late horror fiction from one of the best short story writers the genre has seen.
It was nominated for a 1987 Bram Stoker Award for Fiction Collection (it lost out to The Essential Ellison). It contains chiefly later short work, dating from 1977-1985, published in anthologies like New Terrors 2, Shadows, Masques, Analog Yearbook, Dark Forces, Chrysalis 3, and others.
It also includes one pulp story (from the August 1939 issue of Weird Tales), and two stories that appear here for the first time: "Comeback" and "Die–Nasty."
Here's the complete table of contents:
"The Rubber Room" (New Terrors 2, 1980)
"The Night Before Christmas" (Dark Forces, 1980)
"Pumpkin" (Rod Serling's The Twilight Zone Magazine, November-December 1984)
"The Spoiled Wife" (Chrysalis 3, 1978)
"Oh Say Can You See–" (Analog Yearbook, 1978)
"But First These Words—" (The Magazine of Fantasy & Science Fiction, May 1977)
"Picture" (Shadows, 1978)
"The Undead" (The Undead: The Book Sail, 16th Anniversary Catalogue, 1984)
"Comeback"
"Nocturne" (The First Chronicles of Greystone Bay, 1985)
"Die–Nasty"
"Pranks" (Halloween Horrors, 1986)
"Everybody Needs a Little Love" (Masques, 1984)
"The Totem-Pole" (Weird Tales, August 1939)
About the Author
And here's a quick snapshot of some of the anthologies the stories originally appeared in.
And here's a few of the magazines.
Midnight Pleasures was published in hardcover Doubleday in April 1987, and reprinted in paperback by Tor in April 1991. The paperback is 177 pages, priced at $3.95. The cover is by David Mann.
See all of our recent Vintage Treasures here.