New Treasures: The Astonished Eye by Tracy Knight
New Treasures: The Astonished Eye by Tracy Knight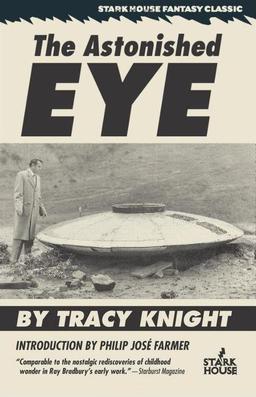 Tracy Knight's short fiction has appeared in the anthologies Werewolves, The UFO Files, Masques V, and Whitley Strieber's Aliens. His first novel, The Astonished Eye, was published as a limited edition hardcover by PS Publishing in 2002, and garnered high praise. Horror World called it "an uncanny blend of mystery, science fiction, fantasy and horror," and William Thompson at SF Site said "some time has passed since I last read a novel with so much thought and ability condensed into a single slim and conceptually compressed novel."
Now Stark House has reprinted the novel in paperback for the first time, with the original introduction by Philip José Farmer, and a new intro from Tracy Knight.
Ben Savitch, reporter for The Astonished Eye — America's famous tabloid journal — finds himself in Elderton, Illinois, the town where he was born. After years of chasing fame, this is the last place he expected to be searching for the elusive exclusive that would put his name on the map. But a UFO landing has been reported in the area, and Savitch intends to be the one to track it down.

However, a strange kind of magic is at work in Elderton. Savitch soon meets Almo Parrish, the last surviving Munchkin (or is he?), Chandler Quinn, builder of just about anything (including a TV hero!) and Vida Proust, who seems to be dead (only no one wants to tell her). They all have something to teach Savitch about being human, if only he will take the time to listen — before it's too late. Tracy Knight takes the story of one man's search for his identity and blends it into a tale of fantasy, mystery and science fiction, with all the charm of a modern American fable.
The Astonished Eye was published by Stark House Press on September 29, 2014. It is 194 pages, priced at $15.95 in trade paperback. The book design is by Mark Shepard.