Vintage Treasures: Zacherley's Midnight Snacks
Vintage Treasures: Zacherley's Midnight Snacks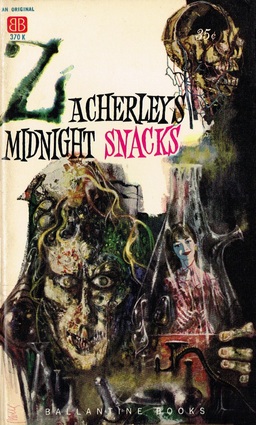 I love Zacherly's Midnight Snacks.
I love the whole goofy premise: a ghoul's favorite midnight reading. A ghoul named Zacherley. Who comments on each story, with special "cheering notes." You go, Zacherley.
Of course, it's in the long-standing tradition of the Old Crypt Keeper, who introduced the horror tales in EC Comics, and Cain and Abel, hosts of DC Comics' long-running House of Mystery and House of Secrets comics, just to name a few. The cheerful undead storyteller, who delights in a good creepy tale (not to mention the occasional moral fable or two.)
In keeping with the fiction that these stories were selected by a ghoul, the editor of Zacherly's Midnight Snacks is uncredited. Someone must know who compiled this (and subsequent) volumes for Ballantine, but they're not talking.
The book collects nine short stories and novelettes from the pulps ("precious old mouldering records"), including Thrilling Wonder, Unknown, Beyond Fantasy Fiction, and Fantastic Universe. Authors include Richard Matheson, Theodore Sturgeon, Wallace West, A. E. van Vogt, and Henry Kuttner. Here's the blurb on the back of the book:
As choice a brew of ghouls, vampires, ghosts and creatures of EVEN MORE VARIED TALENTS as you could wish to meet, in stories garnered from precious old mouldering records, and with special cheering notes on each by ZACHERLEY.
This volume was released in March 1960. Zacherley managed one additional anthology, Zacherley's Vulture Stew, released in August the same year, before (presumably) laying down for his eternal rest.
Here's the complete Table of Contents for Zacherley's Midnight Snacks:
"Sorry, Right Number" by Richard Matheson (Beyond Fantasy Fiction, November 1953)
"Share Alike" by Jerome Bixby and Joe E. Dean (Beyond Fantasy Fiction, July 1953)
"Talent" by Theodore Sturgeon (Beyond Fantasy Fiction, September 1953)
"Listen, Children, Listen" by Wallace West (Fantastic Universe, October-November 1953)
"The Whispering Gallery" by William F. Temple (Fantastic Universe, October-November 1953)
"The Piping Death" by Robert Moore Williams (Unknown, May 1939)
"The Ghost" by A. E. van Vogt (Unknown Worlds, August 1942)
"Carillon of Skulls" by Lester del Rey and James H. Beard (Unknown Fantasy Fiction, February 1941)
"Pile of Trouble" by Henry Kuttner (Thrilling Wonder Stories, April 1948)
Ballantine published several horror anthologies in this spirit in the late 50s and early 60s, including Tales to be Told in the Dark (1965) edited by Basil Davenport, The Graveyard Reader (1965) edited by Groff Conklin, and Things With Claws (1961), edited by White and Hallie Burnett.
Zacherly's Midnight Snacks was published in March 1960 by Ballantine Books. it is 157 pages, originally priced at 35 cents. The cover is by Richard Powers. It has never been reprinted, and there is no digital edition. Copies are fairly easy to find on eBay, and they're run you $10-$12 in good condition.
See all of our recent Vintage Treasures here.