Nab the Trafficking in Magic, Magicking in Traffic Anthology for Just $4.35 at Amazon.com
Nab the Trafficking in Magic, Magicking in Traffic Anthology for Just $4.35 at Amazon.com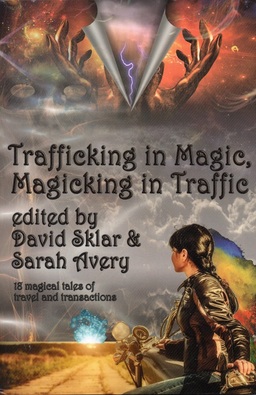 Black Gate author, blogger, and roving correspondent Sarah Avery reports in with some unexpected news: Amazon.com has discounted her acclaimed new anthology Trafficking in Magic, Magicking in Traffic to just $4.35, a steep 73% savings off the $15 cover price.
Sarah and her publisher are not sure how long the sale will last, however, so act fast. Of special interest to Black Gate fans, it contains a brand new story from James Enge — as well as fiction from Elizabeth Bear, Darrell Schweitzer, Pauline J. Alama, and many others. Here's the complete description.
What do you seek at the end of this road? What have you brought to pay your way? The road is full of hazards, and the marketplace can cost more than you expect.

In Trafficking in Magic, Magicking in Traffic, editors David Sklar and Sarah Avery bring you 18 magical tales of travel and transactions, ranging from busking in a train station to walking between the worlds, from doppelgangers for hire to capturing the remnants of the dead.

Ideal to read on your vacation, commute, or flight from vengeful ghosts, this collection features classic stories by Elizabeth Bear, Daniel Braum, George R. Galuschak and Darrell Schweitzer, as well as new work by Pauline J. Alama, Megan Arkenberg, D.W. Carlson, Joyce Chng, M.C. DeMarco, E. Grace Diehl, James Enge, Manny Frishberg, Sara M. Harvey, Scott Hungerford, Deborah Grabien, Deirdre M. Murphy, Rhonda Parrish, Richard Rider, and Heather Stearns.
Trafficking in Magic, Magicking in Traffic was edited by David Sklar and Sarah Avery, and published by Fantastic Books on May 23, 2014. It is 264 pages, regularly priced at $15.99 in paperback. There is no digital edition. Order online from Amazon.com.