New Treasures: Jani and the Greater Game by Eric Brown
New Treasures: Jani and the Greater Game by Eric Brown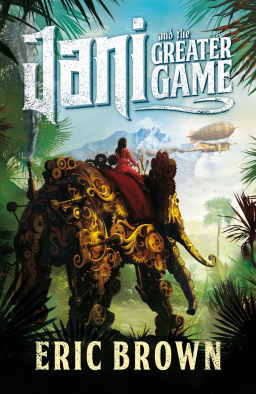 This Eric Brown fellow is one of the most prolific of the new generation of SF and fantasy authors. He's published a dozen novels in just the last five years, almost all of them with Solaris Books, including the Bengal Station trilogy, The Kings of Eternity (2011), Weird Space: The Devil's Nebula (2012), Serene Invasion (2013), and Weird Space: Satan's Reach (2013).
His latest is the opening book in a new steampunk action adventure series set in India in 1910, where the British rule with an iron fist thanks to a strange technology fueled by a mysterious power source… and their enemies covertly maneuver to discover its secrets in a political dance known as the Greater Game.
Eighteen-year-old Janisha Chatterjee, the Cambridge-educated daughter of an Indian government minister, is coming home to visit her father on his death-bed, when her airship is attacked and wrecked. Amid the debris, a stranger — monstrous but kind — saves her life and entrusts her with a mysterious device, which pitches her head-first into the "Greater Game," the ongoing stand-off between British, Chinese and Russian powers in the Indian subcontinent.

Dodging British officers, Russian spies, and the dangerous priest Durga Das, Jani must bring the device to the foothills of the Himalayas; to the home of Annapurnite, the secret power source on which British domination was built. There she will learn the truth about Annapurnite — a truth that will change the world forever…
Jani and the Greater Game was published on July 29, 2014 by Solaris Books. It is 384 pages, priced at $7.99 in paperback and $6.99 for the digital edition. The cover art is by Dominic Harman.