Why Pure Historical Fantasies Never Seem to be Bestsellers
Why Pure Historical Fantasies Never Seem to be Bestsellers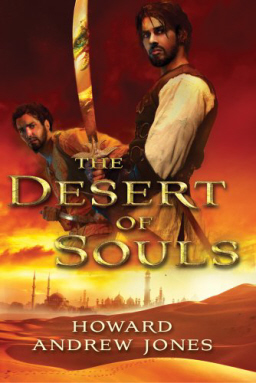 One of the best modern Heroic Fantasy books I've read — one of few modern ones I'll reread — is Howard Andrew Jones's The Desert of Souls. I'd describe it as "Robert E Howard does Clark Ashton Smith with a setting by Harold Lamb." It's an awesome Heroic Fantasy adventure set in the authentic Near East of Harun Al Raschid. I note, however that Howard only got two novels into the series before being forced to move on.
Another book I loved was Matthew Woodring Stover's Iron Dawn and its sequel Jericho Moon. This time we're following a party of Trojan-war veterans as they battle necromancers and killer deities. These yarns should have kicked off a series and perhaps a movie or two, but they didn't and Stover seems best known now for Star Wars novels.
Other otherwise successful writers have tried their hand at Fantasy in a straight historical setting, for example Barbara Hambly has romped around Early Renaissance Italy. Nobody, however, seems to have made a fortune writing "pure" Historical Fantasy, that is Fantasy tales set in an accurately depicted historical setting.
I find this depressing.
Partly it's selfish reasons; I'm a historian by academic background and have an interest in historical magic. This is a tune I would love to play. Mostly though, I'd love to read more about Dabir and Asim, and about Princess Bara and her misfits.
Why is an authentic historical setting a kiss of death?
Some sub sub genres of Historical Fantasy do very well indeed. These appear to be:
Quasi Historical Fantasy: Stories obviously inspired by a particular historical milieu. Guy Gavriel Kay does this without the magic. George RR Martin, meanwhile, is retelling the Wars of the Roses with added zombies and dragons… plus tropes from Scottish History.
Conspiracy Historical Fantasy: Set in an authentic historical time and place, but purporting to offer the true story of what was really going on, which invariably involves one or more conspiracies and sometimes magic. This describes more than one book by Tim Powers, especially Anubis Gates where time travel and magic together explain various recorded oddnesses in 1800s London.
Alternate Historical Fantasy: Authentic history diverges or has diverged, perhaps due to magic. This is pretty much Harry Turtledove's stock in trade.
We also have to consider:
Historical Fiction: Fiction set in an authentic historical milieu with no magic, which is always popular. On the face of it, the popularity of Historical Fiction seems at odds with that of pure Historical Fantasy. Isn't the latter just the former but treating the contemporary magical worldview as real?
My explanation for all this is that "pure" Historical Fantasy falls between two stools, attracting neither History geeks nor core Fantasy readers.
History geeks think of History as real. They just can't suspend disbelief when you wheel magic out onto a historical stage. However, they enjoy it when you play cleverly with history, so get a kick out of the Conspiracy and Alternate sub sub genres. They'll also enjoy spotting the borrowings in the Quasi sub sub genre.
Core Fantasy readers read for the story and regard historicity as primarily window dressing. They can't buy into narrative tension when they know that recorded history acts as a safety net; the author doesn't have the option to follow through with any world-breaking perils. Alternate and Quasi don't have this problem and will be read on their merits. Conspiracy pulls off a judo trick because the point of that sub sub genre is that the magic never breaks out into the open.
So I suspect that Howard Andrew Jones should have kicked off with the Fall of Constantinople to flying carpet-riding Abbasids in AD799, and Matthew Woodring Stover should have made his protagonist a veteran of the successful defence of Troy with an exiled Odysseus as a side kick.
Unless anybody has a better explanation…?
---
M Harold Page (www.mharoldpage.com) is a Scottish-based writer and swordsman with several Historical Adventure franchise books in print. His creative writing handbook, Storyteller Tools is available on Amazon. He's also counting down the days until Loncon 2014 🙂