New Treasures: Fiery Edge of Steel
New Treasures: Fiery Edge of Steel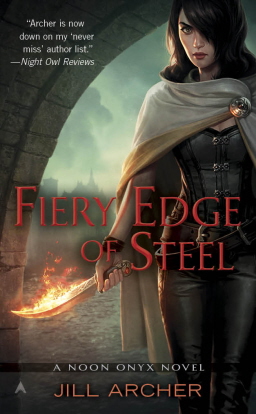 Jill Archer's first Noon Onyx novel, Dark Light of Day, served up a truly post-apocalyptic setting. And I don't mean global warming or an inconvenient economic collapse. Armageddon is over, the demons won, and the few surviving humans worship patron demons just to survive. Sorta makes Mad Max look more like Mad Men, just with cooler fashions.
The second book in the series, Fiery Edge of Steel, has now arrived and it looks even more intriguing. It tosses an unusual mystery, a remote outpost, and an ancient and evil foe into the mix.
Lucifer and his army triumphed at Armageddon, leaving humans and demons living in uncertain peace based on sacrifice and strict laws. It is up to those with mixed demon and human blood, the Host, to prevent society from falling into anarchy.

Noon Onyx is the first female Host in memory to wield the destructive waning magic that is used to maintain order among the demons. Her unique abilities, along with a lack of control and a reluctance to kill, have branded her as an outsider among her peers. Only her powerful lover, Ari Carmine, and a roguish and mysterious Angel, Rafe Sinclair, support her unconventional ways.

When Noon is shipped off to a remote outpost to investigate several unusual disappearances, a task that will most likely involve trying and killing the patron demon of that area, it seems Luck is not on her side. But when the outpost settlers claim that an ancient and evil foe has stepped out of legend to commit the crimes, Noon realizes that she could be facing something much worse than she ever imagined…
Fiery Edge of Steel was published by Ace Books on May 28. It is 330 pages, priced at $7.99 for both the paperback and digital editions.
See all of our recent New Treasures posts here.