New Treasures: Clockwork Fairy Tales: A Collection of Steampunk Fables
New Treasures: Clockwork Fairy Tales: A Collection of Steampunk Fables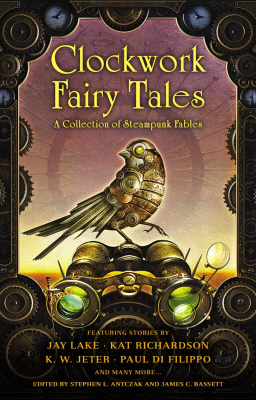 Lately I seem to be months behind when I finally get around to posting on the best new releases. It's not my fault — books tend to get buried here at the Black Gate rooftop headquarters (anything that can't move under its own power gets buried, if you want the truth). Still, there are times when the releases are so old that I debate including them in my Vintage Treasures columns instead of New Treasures. You know that ain't a good sign.
Well, not this time. In this column I talk about a fabulous new book that officially goes on sale today. Today, peeps! Well, yesterday, since it's now after midnight here in Illinois. Crap.
Whatever. It's still a victory, and I savor them when I can. Today's subject is Clockwork Fairy Tales: A Collection of Steampunk Fables, a handsome collection of novellas that combine classic fairy tales with steampunk settings.
Inspired by Hans Christian Andersen's "The Red Shoes," New York Times bestselling author K. W. Jeter's "La Valse" forges a fable about love, the decadence of technology, and a gala dance that becomes the obsession of a young engineer — and the doom of those who partake in it.…

In "You Will Attend Until Beauty Awakens," national bestselling author and John W. Campbell Award winner Jay Lake tells the story of Sleeping Beauty — and how the princess was conceived in deception, raised in danger, and rescued by a prince who may be less than valiant.

The tale of "The Tinderbox" takes a turn into the surreal when a damaged young soldier comes into possession of an intricate, treacherous treasure and is drawn into a mission of mercy in national bestselling author Kat Richardson's "The Hollow Hounds."

In "The Kings of Mount Golden," Hugo and World Fantasy Award nominee Paul Di Filippo tells the story of a young man's search for his heritage and a mechanical marvel that lies at the heart of a sinister pact in this fascinating take on "The King of the Golden Mountain."
The volume also includes tales from Steven Harper, Nancy A. Collins, G. K. Hayes, Gregory Nicoll, and Pip Ballantine. One of the most intriguing elements of this anthology is story length: all of the contributions except the Jeter are novellas, averaging around 40 pages each. I consider novellas to be the ideal length for most fantasy, and you don't see many markets for them
Clockwork Fairy Tales: A Collection of Steampunk Fables was edited by Stephen L. Antczak and James C. Bassett. It was released on Tuesday by Roc Books. It is 325 pages in trade paperback, priced at $15 ($9.99 for the digital version).