Michaele Jordan Reviews After Death
Michaele Jordan Reviews After Death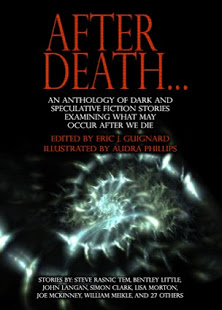 After Death. . .
An Anthology of Dark and Speculative Fiction Stories Examining What May Occur After We Die
Edited by Eric J. Guignard
Dark Moon Books, an imprint of Stony Meadow Publishing, Largo FL (292 pp, $15.95, trade paperback, April 2013)
Reviewed by Michaele Jordan
As you can guess from the title, Eric J. Guignard has assembled an assortment of viewpoints about the afterlife. These thirty-four stories (illustrated by Audra Phillips) cover a surprising range, especially since the viewpoint most professed by science fiction fans is the least represented. Please do not interpret that remark as a criticism. There's not a lot of story to tell in a story about nothing happening. Yet even the perception of the afterlife as nothingness is included with 'The Last Moments Before Bed,' in which Steve Rasnic Tem confronts the dreadful hole remaining after a loved one is gone.
These stories run the gamut from blissful to black; John Palisano's 'Forever' anticipates a joyful reunion, while Kelly Dunn's 'Marvel at the Face of Forever' is one of the darkest horror stories this reviewer has ever seen. Several authors contrast the Christian afterworld with the pagan, as in the Christian displacement of the Greek afterlife in Jonathan Shipley's 'Like a Bat out of Hell,' or Valhalla's continued rowdy intrusion into the Catholic middle ages as told by Christine Morgan in 'A Feast of Meat and Mead.'
Naturally, the traditional views are represented. In 'Tree of Life,' Aaron J. French presents the Jewish cosmogony, while in 'Hellevator,' Josh Strnad portrays a simultaneously modern yet classical image of heaven and hell that is straight out of C.S. Lewis. On the other hand, Allan Izen shows us reincarnation and its rationale in 'In and Out the Window.' Brad C. Hodson warns of the darker side of rebirth in 'The Thousandth Hell.' And 'Mall Rats' by James S. Dorr is simply a sad little tale of hungry ghosts.
Whatever the medium, many authors felt that an afterlife must surely serve as a vehicle for justice. Lisa Morton inflicts the perfect sting on a corporate shark in 'The Resurrection Policy.' William Meikle also shows us a biter bit in 'Be Quiet at the Back.' Other writers believed that death would change little or nothing. Bentley Little documents a man singularly unimproved by death in 'My Father Knew Douglas MacArthur,' while in 'Prisoner of Peace,' David Tallerman suggests the dead take all their hurt and fear with them.
There are a half dozen tales of less classifiable afterlives. John Langan takes a very different look at the bright light at the end of the tunnel in 'With Max Barry in the Nearer Precincts' and Peter Giglio's 'Cages' turns the whole concept of afterlife upside down. There are even comic visions of the afterlife, such as 'The Devil's Backbone' by Larry Hodges.
These are only half the stories included in this excellent collection. That leaves seventeen more to surprise you!
__________
Michaele Jordan is the author of Mirror Maze, brought to you by Pyr, and has placed stories in Redstone Science Fiction, Buzzy Mag, and The Magazine of Fantasy and Science Fiction. You can find her posts on SF Signal or anywhere else that will print her fevered musings. She welcomes new friends on Facebook — as long as you don't expect prompt replies — and invites you to visit her website, www.michaelejordan.com. But be sure to spell her first name correctly or you'll end up looking at basketball pictures.