New Treasures: Quintessence by David Walton
New Treasures: Quintessence by David Walton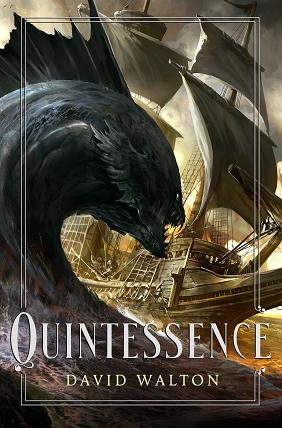 There are few things as intriguing as an exciting new author. Maybe an all-you-can eat Indian buffet, or finding a mysterious note in a 10-year old jacket. And goliath birdeater spiders. Man, they give me the willies.
But back to exciting new authors. David Walton is an exciting new author. Back in 2008 he won the Philip K. Dick Award for his first novel, Terminal Mind, published by tiny Meadowhawk Press. That's intriguing.
Even more intriguing is the arrival of his long-anticipated second novel: Quintessence. A slipstream counterhistory set in a fourteenth century featuring beetle-based navigation, alchemy, deadly storms, mutiny, sea monsters, and a trip to the edge of the earth, Quintessence promises to be a very different kind of fantasy, and the early buzz has been very favorable indeed.
Imagine an Age of Exploration full of alchemy, human dissection, sea monsters, betrayal, torture, religious controversy, and magic. In Europe, the magic is thin, but at the edge of the world, where the stars reach down close to the Earth, wonders abound. This drives the bravest explorers to the alluring Western Ocean. Christopher Sinclair is an alchemist who cares only about one thing: quintessence, a substance he believes will grant magical powers and immortality. And he has a ship.
Quintessence was published on March 19 by Tor Books. It is 320 pages for $25.99 ($12.99 for the digital edition). Check out the first three chapters on David Walton's website.