Speculate! Interviews Howard Andrew Jones
Speculate! Interviews Howard Andrew Jones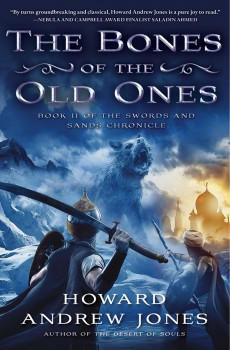 Gregory A. Wilson and Bradley P. Beaulieu interview Black Gate Managing Editor Howard Andrew Jones for episode 65 of Speculate!, the Podcast for Writers, Readers, and Fans.
We kick off 2013 with an interview of author Howard Andrew Jones, who writes both original world novels and books set in Paizo's Pathfinder universe, adding to our ever-growing list of speculative fiction authors who enjoy gaming almost as much as they enjoy writing! We cover the influences on Howard's work (including an abiding interest in 1,001 Arabian Nights), his fascination with the short story writer and novelist Harold Lamb, and the differences between writing an original world book like The Bones of the Old Ones and a shared world book like Plague of Shadows.
The interview covers a lot of ground — everything except, apparently, Howard's growing herd of horses.
Gregory A. Wilson's first novel, The Third Sign, was published by Five Star Press in 2009, and Bradley P. Beaulieu's The Winds of Khalakovo and The Straits of Galahesh were published by Night Shade Books. Next episode, they talk about the state of the field with Michael Stackpole and Matt Forbeck.
Listen to the complete 38-minute podcast here.