Dark Regions Press releases Crooked House by Joe McKinney
Dark Regions Press releases Crooked House by Joe McKinney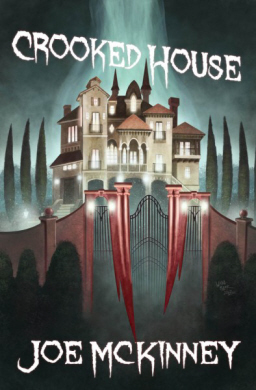 I don't know about you, but as Halloween approaches I'm seeing a lot more horror movies, books, and graphic novels cross my path.
As Goth Chick loves to point out, it is the Season. And if you're not paying attention, it's easy to overlook some of its more intriguing titles, especially from the small press. Fortunately, Black Gate has you covered.
Dark Regions Press specializes in horror and dark fiction, and have published hundreds of authors such as Bentley Little, Rick Hautala, Bruce Boston, Robert Frazier, Jeffrey Thomas, Charlee Jacob, Tim Waggoner, and many more. This Tuesday, October 23rd, they are publishing Crooked House by Bram Stoker Award winning author Joe McKinney:
In this republican country, amid the fluctuating waves of our social life, somebody is always at the drowning point.

Those words were true when Nathaniel Hawthorne wrote them in 1851, and they were true in 1933, when a fire burned half of Crook House to the ground, taking James Crook's wife and two sons with it. A disgraced bootlegger and former pro baseball player, James Crook returned from prison to find his house, and his life, a pile of cinders. Broken and insane, he rebuilt Crook House, putting his pain and loneliness into every timber.

But Hawthorne's words are still true today, and nobody knows that better than Dr. Robert Bell, who has just moved into Crook House as part of his hiring package from a small Texas college. He soon discovers that Crook House is more than just a new beginning for himself and Sarah and their daughter Angela. For the Bell family, Crook House is a place where the past still lives, and its horrors waiting for the next drowning man.

With Crooked House, Joe McKinney brings you a chilling novel in the vein of The Shining by Stephen King, a haunted house tale that will stay with you long after the final page is turned.
Joe McKinney is the author of Flesh Eaters, Dead City, Mutated, and more. Crooked House will be available as a leather-bound deluxe lettered hardcover and as a signed and numbered limited hardcover. Find complete details and order information at Dark Regions.