New Treasures: Warhammer: Dreadfleet
New Treasures: Warhammer: Dreadfleet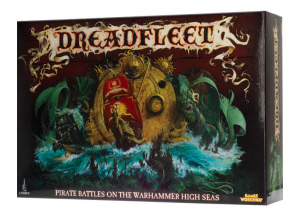 There are games that are perfect for an impulse buy, and there are games you need to budget for. And then there are games that you lust after for months, scrimping and saving, until you've collected enough pennies to seal the deal.
Such a game is Dreadfleet, a prize I've been eyeing for many months. It finally arrived on Friday, and I've been cooing over it ever since. I haven't had a chance to try it yet, but I'm sure if I leave it out where Drew can find it, he'll ask to play it with me.
Dreadfleet is a tabletop miniatures board game from Games Workshop, which means it comes packed with dozens of great toys and a fabulous back story. The back story this time deals with the dread pirate Captain Roth, sailing the high seas to avenge the death of his family at the hands of the Vampire Count Noctilus. Dreadfleet is set in Games Workshop's popular Warhammer universe, and was designed by Phil Kelly with art by John Blanche and Alex Boyd.
Captain Roth's hunt for the legendary Dreadfleet has led him deep into the fabled Galleon's Graveyard. With the aid of the world's most dangerous pirate lords, the Captain intends to send the Vampire Count Noctilus to a watery grave. Yet the count has allies too, each at the helm of a gigantic and unnatural warship. Can the pirate lords battle through legions of skeletal sailors, zombie sea monsters, and hurricanes of raw magic to slay the master of the Galleon's Graveyard once and for all?

Dreadfleet is a game for two players that allows you to enact an intrepid vampire hunt in a nautical otherworld. One player commands the pirate lords of Sartosa whilst the other controls a coalition of dark and dangerous Undead captains. Dreadfleet is quick to learn but hard to master, and provides countless hours of swashbuckling fun, thunderous broadsides, and heroic derring-do as you navigate twelve exciting scenarios. Will the Captain get his vengeance upon his deathless nemesis, or will the Galleon's graveyard claim their lives too?
Vampire lords, zombie sea monsters, undead pirates, strange magics… what more could you ask for? The action takes places on a gorgeous seascape mat measuring 5 feet by 3.5 feet, involving 10 miniature warships averaging around three to four inches. The miniatures come unpainted and require assembly, so bear that in mind if you expect to pick it up and be playing in minutes.
The game is designed for two players, but includes scenarios playable by up to ten. Although Games Workshop has a reputation for producing countless supplemental miniatures (just look at their Warhammer 40,000 line), as far as I can tell, Dreadfleet is a stand-alone product with no plans for auxiliary units.
Dreadfleet was published by Games Workshop in October 2011; it retails for $114.99. It is recommended for ages 12 and up.