Genevieve Valentine Comments on Readercon Harassment in "Things You Should Know About the Fallout"
Genevieve Valentine Comments on Readercon Harassment in "Things You Should Know About the Fallout"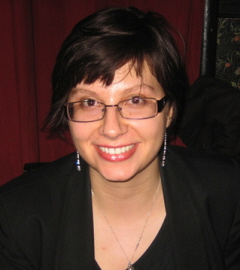 Author Genevieve Valentine, who was the victim of a sexual harassment incident at Readercon 23 that resulted in the resignation of the entire convention board, has posted a lengthy and thoughtful essay on the continued repercussions of the event, titled "Things You Should Know About the Fallout":
Nearly two months ago, I went public about harassment I experienced at Readercon. Things happened. The outcome was positive….

However, for those thinking of going public with their own experiences with con harassment, I want to talk about how it looks nearly two months on. Because it's still going, two months on.
In particular, she addresses the naked hostility she has faced from individuals who were not present at Readercon:
The fallout may not be, but will certainly seem like, a Kafka novel.

There will be creeps in comments. (I've opted not to publish some anonymous ones, including the person who informed me, "You have absolutely no right to deny someone looking at you or in your eyes.")

There will be threats. (I won't link to the worst of these, but it's not hard to find if you search Readercon and "they take people like you and kill them with rocks" together. Trigger warning for pretty much everything. It's not a fun read.)

The responses by self-proclaimed rational people questioning your veracity, or the necessity of the discussion, will be somehow worse. In discussing the idea of actively discouraging harassment at conventions, they will use phrases like "thought police" and "mob mentality" and "lynching."
It's a fascinating and insightful read. You can read the entire post here.