New Treasures: Patrice Sarath's The Crow God's Girl
New Treasures: Patrice Sarath's The Crow God's Girl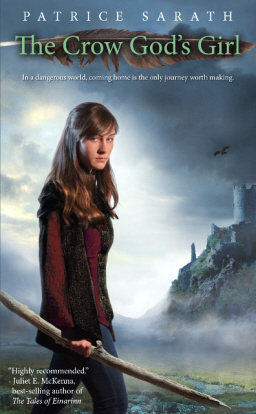 Patrice Sarath has had an enviable career. Her contribution in Black Gate 4, "A Prayer for Captain LaHire," the tale of three knights and followers of Joan of Arc who discover the horror a fourth disciple has unleashed, was one of the most acclaimed stories from our early years and was reprinted in Year's Best Fantasy 3 (2003). She edited the anthology Tales From The Secret City in 2007.
She turned to novels in 2008 with Gordath Wood, a book she describes as "hard to categorize:"
It's fantasy but with only a touch of magic to it. It has romance, but is not a romance (a very different beast). It has a murder-kidnap mystery in it. Basically it has all of the elements of books I like to read. And although everybody has different tastes, I am betting that more than a few of you also like your books the same way I do — shaken and stirred. So if you like fantasy-mystery-romance novels, this one's for you.
Gordath Wood was well reviewed and spawned a sequel, Red Gold Bridge, in 2009. In 2011 she published The Unexpected Miss Bennet, a Pride & Prejudice sequel which follows middle sister Mary Bennet, the most misunderstood of the Bennet sisters.
Now she's turned to digital books with a second sequel to Gordath Wood, The Crow God's Girl. When Lord Terrick's youngest son is kidnapped, teenage Kate Mosland teams with a mysterious young girl named Ossen to execute a daring rescue… an action with unexpected consequences. As the kingdom stands on the brink of war and Terrick demands Kate submit to a new role, Kate finds that another daring and unexpected action may be the only way to find her true home.
The Crow God's Girl is 326 pages and was published June 6, 2012. It is available via Amazon Kindle for $3.99.