Goth Chick News: Joss Whedon's Other Summer Movie
Goth Chick News: Joss Whedon's Other Summer Movie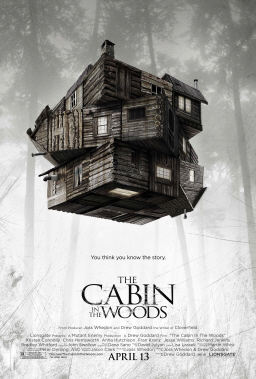 John O'Neill here, on behalf of Goth Chick. Goth got a callback for the part of Morticia in the upcoming production of The Addams Family at Chicago's Steppenwolf Theater, and she was outta our offices like a comet.  I found a scrawled note in my chair reading, "Gone all week — cover for me, and there free tickets for opening night in it for you.  Ta!"
So I'm currently sitting at her desk, hoping to tell you about the week's best goth entertainment, hottest new trailers, and overlooked 80's horror films. Man, how does she find anything? Her desk is covered in morgue photos, news clippings and — I swear to God — a voodoo doll collection. I'm scared to touch anything, and every one of her interns jumps at least a foot when I try to speak to them.
The heck with it. Stick with what you know. And what I know is that all my friends refuse to talk to me about The Cabin in the Woods.
The Cabin in the Woods, in case you haven't heard, is Avenger's director Joss Whedon's other summer movie. He was the producer and co-writer of the film, which was directed by Drew Goddard, staff writer for Buffy the Vampire Slayer and the writer of Cloverfield. I 'd tell you more about the movie, but I don't know anything. All I can find is this sparse description on IMDB:
Five friends go for a break at a remote cabin in the woods, where they get more than they bargained for. Together, they must discover the truth behind the cabin in the woods.
Seriously, the hush level on this film is amazing. No one will talk about it. It's like everyone who's left the theater has been sworn to secrecy. My friends say things like, "Dude, what did you think of that moment, about 30 minutes in?" I tell them I haven't seen it yet and they mutter under their breath, and say "Go see it.  Immediately."
Which isn't going to be easy. While The Avengers is well on the way to becoming, like, the most profitable film in the history of the world, The Cabin in the Woods is more closely following the trajectory of Joss Whedon's earlier films: it was released on April 13 and has nearly vanished from theaters. Those penetrating and silent stares from my friends are becoming more urgent.
I'm here to pass that urgency along to you. It's too late for me, but maybe it's not for you. Somewhere in your town there's a theater still showing this movie. Don't be left out. Catch it before it's gone.
Save yourselves.