Alana Joli Abbott Reviews Chicks Kick Butt
Alana Joli Abbott Reviews Chicks Kick Butt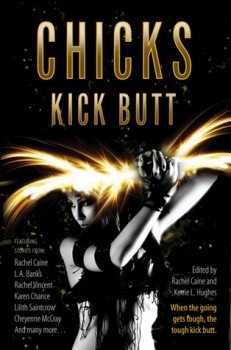 Chicks Kick Butt
Rachel Caine and Kerrie L. Hughes (eds.)
Tor (pages 349, $14.99, trade July 2011)
Reviewed by Alana Joli Abbott
Anthologies should accomplish two things. Readers unfamiliar with the authors should have their interest piqued and should want to read more by those authors. Readers familiar with the works of the writers should feel that the story is a reward – an extra – that enhances their reading experience of the other works. In the case of Chicks Kick Butt, several – but not all – of the stories engaged me and left me wanting more by the writers.
Overall, it is a strong collection, filled with writers who have had novels on bestseller lists, many at The New York Times. Perhaps most pleasantly, the stories tend to be about women who are not too awesome to be interesting. While a few of the heroines are amazing fighters who literally kick butt, most are vulnerable or unsure of their own abilities; it is their determination, perseverance, and wits that sees them through. Given frequent complaints about how "strong woman" has had a single definition in the media, this anthology bucks the trend by featuring women with a variety of strengths.
In Rachel Caine's light-hearted opener, "Shiny," both the heroine and her antagonist are admirably strong women (one through magic and determination, the other through trickster wiles; also, there's a fantastic car chase down a mountain).
P N Elrod's delightful "Vampires Prefer Blondes" features not a warrior heroine, but a singer who knows enough about vampires to help an abused young wife stand on her own two feet.
Rachel Vincent's "Hunt," about a minor character from her Shifters series, shows a werecat tabby overcoming her identity as a victim into a new, more powerful role; while Elizabeth A Vaughn's "A Rose By Any Other Name Would Still Be Red" stars a female enforcer in an enchanting medieval fantasy setting.
"Mist" by Susan Krinard feels like a series opener; I was disappointed to discover nothing else has been written in that world.
The stories range in style, with some being lighthearted and others dealing with more serious real-world topics, and in supernatural focus, with vampires, shapeshifters, fae and Norse gods filling the pages. This diversity means that while not every story will be to a reader's taste, chances are good that at least some of the stories will appeal to any individual reader.
On that level, the anthology is successful indeed.
__________
Alana Joli Abbott is a novelist, comic book writer, and contributor of role playing articles to Dungeons and Dragons Insider and short stories to anthologies including Haunted: 11 Tales of Ghostly Terror. She serves as a book reviewer for Publishers Weekly, School Library Journal, Flames Rising, and Kirkus Reviews. You can follow her latest adventures in writing and mythology chasing at www.virgilandbeatrice.com.