Retro Movie Posters
Retro Movie Posters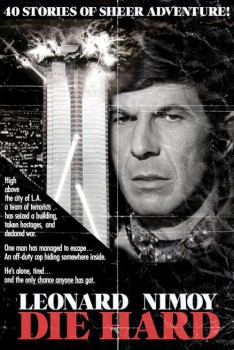 Over at his blog, artist and designer Peter Stults has been having fun with "What If…" movie posters, depicting retro versions of great modern films — complete with a re-imagining of the entire cast and crew.
This sort of thing has been done before, but I've rarely seen it done with such a deft touch, both artistically and in his spot-on cast selections.
Probably my favorite is Leonard Nimoy as New York cop John McClane in the re-imagined Die Hard.
But I also greatly enjoyed seeing Sean Connery and Christopher Lee in The Fifth Element; Dean Martin, Jerry Lewis and Jack Lemmon in The Hangover; Steve McQueen and Faye Dunaway in The Terminator; and especially Frank Zappa as The Big Lebowski.
Stults has shown more than some fine skill with Photoshop, however. His design sense  is terrific, and he unerringly mimics a wide range of Hollywood advertising styles through the decades. One of his best is the faux poster for Fritz Lang's magnum opus 2001: A Space Odyssey (written in German, naturally).
He's been adding more posters each month. Check out the latest here.
It's worth the click just to see John Wayne as Superman (and who else but a young Clint Eastwood as the menacing General Zod?).