New Treasures: Armchair Fiction
New Treasures: Armchair Fiction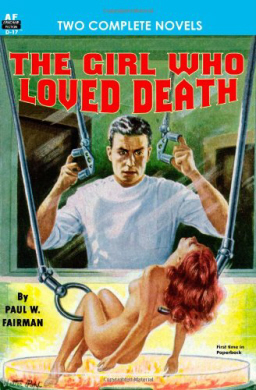 I stumbled on the new line of Armchair Fiction science fiction and horror reprints late last year, and finally ordered a few in December.
Armchair claims they're "dedicated to the restoration of classic genre fiction," and they mean it. So far they've published 39 "Double Novels" — two short novels packaged together, modeled after the fondly-remembered Ace Doubles from the 50s and 60s — plus 15 single novels, and six short story collections.
Much of what they've publishing has been out of print for decades, including work from Fritz Leiber, Murray Leinster, Robert Sheckley, Mack Reynolds, Jerome Bixby, Keith Laumer, Edgar Pangborn, Richard S. Shaver, Robert A. W. Lowndes, Leigh Brackett, Raymond F. Jones, Poul Anderson, and many others.
When a vintage press is inclusive enough to reprint the work of Richard S. Shaver, author of the infamous "Shaver Mysteries," you know they're serious. Trust me.
I've been very pleased with the books I've received so far — they're quality productions, probably print-on-demand, although POD has gotten so polished these days I can't even be sure. They're glossy paperbacks, with excellent cover reproductions (most taken from 50s SF magazine covers and Ace Doubles), about the size of a trade paperback, and reasonably priced at $12.95.
They have 15 new releases for Winter 2012, including fiction from Clifford D. Simak, Rog Phillips, Stanton A. Coblentz, Jack Sharkey, Edmond Hamilton, Frank Belknap Long, Don Wilcox, and other neglected science fiction and horror writers.
One of the most commendable aspects of Armchair Fiction is that they're willing to take chances on authors who are virtually unknown today.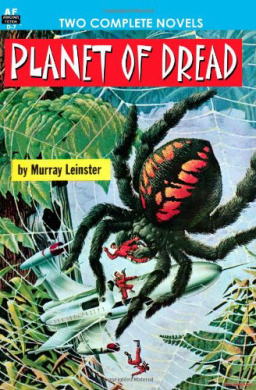 There's probably not much risk in a collection of Fritz Leiber short stories (Masters of Science Fiction, Volume Six) for example, or reprinting back-to-back Poul Anderson novels (Double Novel #31: A Hoax in Time and Inside Earth). Or Murray Leinster's short novel Planet of Dread.
But the 1957 novel The Time Dissolver by Star Trek writer Jerry Sohl is a different story.
Ditto The Girl Who Loved Death by Paul W. Fairman (who?), from the September 1952 issue of Amazing Stories, reprinted back-to-back with Slave Planet by Laurence M. Janifer (from 1963).
Even Frank Belknap Long, whose Lovecraft pastiches are still avidly collected today, has been out of print for decades, but he's well represented here with a full-length novel (Mars is My Destination, from 1962), plus three short novels: Space Station #1 from 1957 (in Double Novel #1, with The Galaxy Raiders by William P. McGivern), Mission to a Distant Star, originally printed in five parts in Satellite Science Fiction magazine in 1958 (in Double Novel #18, with J.F. Bone's Second Chance), and Operation Square Peg, also from 1957 (Double Novel #22, with Leigh Brackett's Enchantress of Venus).
A big part of the appeal of these books, of course, is the excellent cover art — by Emsh, Richard Powers, Allen Anderson, and many others, much of which hasn't been seen outside art galleries for a generation.
The enticing cover to The Girl Who Loved Death above (likely the only reason this story is remembered at all) is by Walter Popp. The terrific cover for Planet of Dread at right, reprinted from the May 1962 issue of Fantastic magazine, is by George Schelling.
For complete details on Armchair Fiction releases, and to order, visit their website here.