The New York Review of Science Fiction drops Print Version
The New York Review of Science Fiction drops Print Version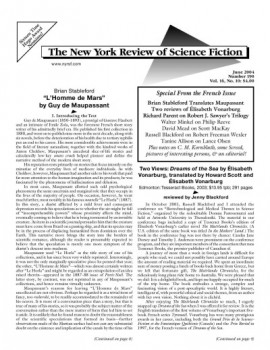 One of the best critical magazines for fans of science fiction and fantasy is The New York Review of Science Fiction, edited by David G. Hartwell and Kevin J. Maroney. It has been published monthly since 1988, and it's been nominated for a Hugo Award virtually every year. Famous for its in-depth reviews, serious tone, and critical excellence, NYRSF also has deep ties to the fan community, with plenty of news and interesting commentary on both fiction and the folks who create it.
I've been a subscriber for roughly a decade and I find that while NYRSF is rarely a quick read, I can always count on it to point me towards the best in modern SF & fantasy, as well as bringing plenty of neglected classics to my attention. I rarely get a third of the way through an issue before rising from my big green chair to go dig through my library for some obscure 1970s paperback or pulp story they've referenced. The staff writers have excellent taste and very long memories, and they know their stuff.  NYRSF: it's entertaining, and it's good for you.
For the past few years the editors have been bemoaning the bleak outlook for the genre's print fiction magazines. And on December 4, NYRSF became part of the news: they announced they would switch to a PDF-only format with the August 2012 issue:
We will continue to publish print issues through the end of the current volume in July 2012. It does not appear that we will continue in print past then but will switch to PDFs of entire issues. These may be emailed to subscribers, or we may decide not to have subscribers and just make each issue available online, either for a nominal charge or for free. We will almost certainly also offer a print-on-demand option as well…

We have offered a PDF subscription to overseas and non-US subscribers for the last couple of years, but we are now, this minute, offering this option to all subscribers. If it is time for you to renew your subscription, we want you to know that you can switch immediately to all-electronic for the reduced price of $3.00/issue.
Read the complete announcement here.