Free Knights of the Dinner Table Online Strips
Free Knights of the Dinner Table Online Strips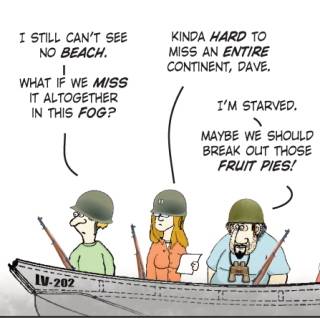 The talented Jolly Blackburn, creator of the comic Knights of the Dinner Table, has posted an epic KoDT comic strip online for your enjoyment.
Knights of the Dinner Table is the finest gaming comic ever made. It follows the misadventures of a group of misfits from Muncie, Indiana, whose love of gaming routinely trumps normal social conventions, and occasionally even their sense of self preservation.
This latest online strip, "Not Up To Speed," finds the gang involved in an impossibly ambitious  live-action recreation of the D-Day landing in a vast convention hall at Gary Con.
Long time readers will recognize the characters Eddie and Sara, who appear in the KODT Java Joint strip in the pages of Black Gate magazine.
The latest issue of the Knights of the Dinner Table print magazine is #180 (October 2011), making it one of the longest-running independent comics in history.
Knights of the Dinner Table magazine is 64 pages of comics, reviews and gaming fun for just $5.99. It's available at better comic and game shops around the country, or online at KenzerCo, and it gets my highest recommendation.