New Treasures: The Monster's Corner
New Treasures: The Monster's Corner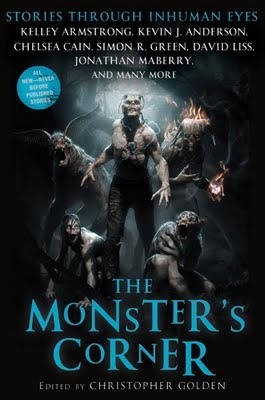 Monsters!
I have a weakness for monsters.  And who doesn't, really? I have a theory that sword & sorcery readers all loved monster movies as a kid. We talk about a fondness for the literature of the rugged individual, but secretly we just want to read about monsters.
But enough about me.  The topic at hand is monsters.  And the book at hand, compliments of today's mail and the publicity department at St. Martin's Press, is The Monster's Corner, an anthology of all-new stories edited by Christopher Golden.
All new monster stories, I hasten to point out. 19 tales of classic and original creepy-crawlies, all told from the point of view of the monster. Here's the marketing blurb:
Demons and goblins, dark gods and aliens, creatures of myth and legend, lurkers in darkness and beasts in human clothing… these are the subjects of The Monster's Corner, an anthology of never-before published stories assembled by Bram Stoker Award-winning author Christopher Golden.

With contributions by Lauren Groff, Chelsea Cain, Simon R. Green, Sharyn McCrumb, Kelley Armstrong, David Liss, Kevin J. Anderson, Jonathan Maberry, and many others, this is the ultimate anthology on the dark heart of a monster.
I like it. I also like the author line-up: a fine mix of names I admire — including David Moody, Tananarive Due, Michael Marshall Smith, Gary A. Bruanbeck, and the marvelous Tom Piccirilli — and a terrific sampling of up-and-coming novelists whose work I have not yet tried. A great way to survey the horror field while enjoying some fine monster fiction, I think.
Christopher Golden's previous anthology for St. Martin's Press was The New Dead, which I quite enjoyed (when my teenage sons finally let me have it back, anyway). The Monster's Corner is 389 pages in trade paperback, with a cover price of $14.99. The official on-sale date is Sept. 27.