Charlene Brusso Reviews A Magic of Nightfall
Charlene Brusso Reviews A Magic of Nightfall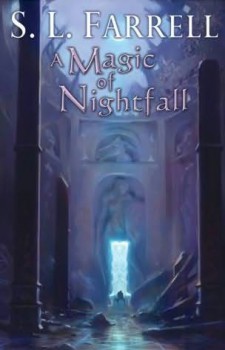 A Magic of Nightfall
S.L. Farrell
DAW (656 pp, $7.99, March 2009 – March 2010 mass market edition)
Reviewed by Charlene Brusso
Fans of S.L. Farrell's marvelous ability with character and world-building (check out the Cloudmage trilogy) will cheer at the arrival of the latest book in the Nessantico Cycle (sequel to A Magic of Twilight). Book two returns readers to the marvelous Renaissance style city of Nessantico, "the most famous, the most beautiful, the most powerful of her kind," bustling with energy, ambition, magic (much of it unauthorized), and ever-rising intrigue. But this is a Nessantico 25 years after the events of Twilight, a shaky Nessantico and its powers-that-be set to tumble down the slippery slope that has been steadily growing steeper in the last few years.
Nessantico is the capital, both political and religious, of the Holdings, an immense and entrenched empire – immense, but half the size it used to be. To the east, rival nation-state Firenzcia is forming its own alliances with its neighbors. Likewise, the Concenzia Faith has undergone a schism. In Nessantico, the much-beloved Ana ca'Seranta still serves as the "real" Archigos, but rival Archigos Semini ca'Cellibrecca, a conservative religious hardliner, leads the faithful in Brezno in Firenzcia. Unlike Ana, Semini has no tolerance for heretics like the Numentodo, natural philosophers who've proven that magical ability has no link to religious faith.
__________
With the Holdings divided, Nessantico's standing and the Holdings' fate are both determined by their leaders – and these are none too healthy. Political power in Nessantico is held, officially, by Audric, the sickly grandson of the legendary Kraljica Marguerite ca'Ludovici, who rules with the advice of his Regent, ruthless but loyal Sergei ca'Rudka (infamous as a ruthless torturer and schemer, here Sergei seems to have mellowed very slightly since Twilight). In Firenzcia, the Hirzg Jan ca'Vorl has ruled with a strong arm, but Jan now lies on his deathbed and questions swirl about who will take his place: his daughter Allessandra, who has all the diplomatic and strategic skill of her father, but always comes second in his favor to her younger brother Fynn, a popular military leader with cold-blooded ability but little patience.
And to the west lie the expansionist Tehuantin of the Hellins, with a strong army and their own explosive magic, and more than a few spies loose in Nessantico, all just waiting for the right moment to move in.
In a dual stroke of fate, Hirzg Jan passes away and Archigos Ana is assassinated by an explosion that rocks the city, sending chaotic vibrations far and wide. The only replacement for her appears to be Kenne, an elderly and moderate priest whose best qualification is that he has never had any opinions strong enough to earn him enemies. In Firenzcia, Fynn assumes he will become the next Hirzg, but Archigos Semini, seeking to expand his own influence, offers to support Allessandra in exchange for future favors. Meanwhile in Nessantico, Audric is suddenly ready to declare his own independence, secretly advised by the voice of long-dead Maguerite.
If this sounds complicated, it is, and things are just getting started. Yet, Farrell maintains a solid narrative balance throughout, letting multiple plotlines play out in such a natural fashion that the story might easily be based on real historic events. All too often, big fantasy novels have weak spots – slack middles, monochromatic heroes and villains, and settings that are mere surface without texture or depth. Farrell commits none of these sins. It is impossible to find a place in this book where you could easily whack out 50 or 100 pages without "breaking" the story. Characters' motivations are tangled, loyalties are tested, situations are fluid, and characters are free to act out of anger, pride, greed, love, or lust, just like real people. If you're seeking heroes and villains, you'll find them appearing simultaneously, because characters can and should be both at the same time.
With this series, Farrell has set himself a challenge fit for a master world-builder: the life-cycle of an entire nation, with all its culture, vitality, and richness. It is a challenge at which he succeeds very nicely. The book is beautifully plotted, built on vivid, believable characters and situations to create a complex and intricate story that works on every level. Even finer, Farrell (sometimes known as Stephen Leigh) writes with a passion and frequent lyricism that may just make you want to read bits out loud for the pleasure of the language.
Like its predecessor, A Magic of Nightfall is a splendid, compelling and rewarding story of faith and ambition, treachery and hope. It's a long trip, and one well worth taking.
A slightly different version of this review originally appeared in Black Gate Magazine #14.
___________
Charlene Brusso is an science fiction & fantasy author and science writer. She also reviews science and genre fiction for several venues, from Ad Astra and Black Gate to the NY Journal of Books (www.nyjournalofbooks.com) and the SF Site (www.sfsite.com).