Bull Spec #2: A Magazine of Speculative Fiction
Bull Spec #2: A Magazine of Speculative Fiction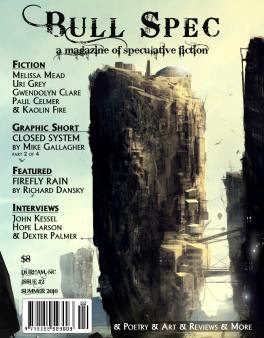 The second issue of Bull Spec, Samuel Montgomery-Blinn's quarterly print magazine of Speculative Fiction, arrived last week, with a spectacular cover by Vladimir Krizan.
I asked Samuel to give a quick rundown of the contents for us, and he delivered with style:
Greetings, fantasy adventurers of Black Gate! Bull Spec #2 was published on July 13, with original short speculative fiction ranging from far future science fiction on distant worlds, to a near future science fiction NYC, to a fantasy take on naga mythology. And there's Kaolin Fire's "By the Dragon's Tail" which follows a broken man from a soothsayer's table to his journey into a volcano's mouth in search of… well, you might be able to guess by the title, eh? There's an essay from John Kessel on posthuman ethics, in-depth interviews touching on subjects including non-narrative game design and even Wagner's operas, and, of course, the serialized graphic story "Closed System" which features a scientist who travels through time. On a motorcycle chassis. Grafted onto a giant ape head. Black Gate folks might also be interested in a darkly fantastic bit of poetry, "The Torturer's Boy" by J.P. Wickwire. And the cover. Thank you, Vladimir Krizan! It's available in print (yes, print! in this day and age!) and DRM-free, pay-what-you-want PDF.
You had me at "giant ape head." And I'm still jealous of that cover. Copies of Bull Spec #2 can be ordered from their website.