Best American Fantasy comes to an End
Best American Fantasy comes to an End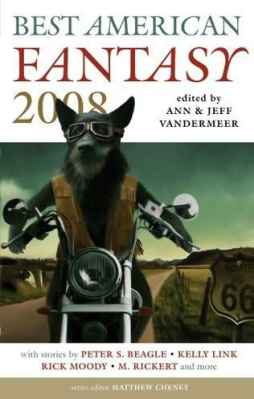 Over at Ecstatic Days, Jeff VanderMeer has announced that the annual anthology series he founded with Ann VanderMeer, Sean Wallace, and Matthew Cheney, Best American Fantasy, has wrapped up after three volumes.
The first, published in 2007 by Sean Wallace at Prime Books and edited by Jeff and Ann VanderMeer, was an eclectic and delightful mixture of fantasy assembled from Zoetrope: All-Story, Analog, McSweeney's, Zahir, Strange Horizons, The New Yorker and others sources, featuring nearly two dozen writers I'd never heard of. The second offered a slightly more familiar cast, including Jeffrey Ford, Kelly Link, and Peter S. Beagle, but still cast a wide net to include fiction from Cincinnati Review, Tin House, Barrelhouse, Harpers, Mississippi Review, and many others.
With the third volume the series jumped to Victoria Blake's Underland Press, and changed editor to Kevin Brockmeier (our review, by David Soyka, is here). It contained work from Stephen King, Lisa Goldstein, Peter S. Beagle, Jeffrey Ford, and others. Jeff reflects on the decision to end the series thusly:
The amicable move from Prime to Underland following the publication of BAF2 was meant to rejuvenate the series and to finally achieve stability for it. Unfortunately, this didn't occur, for a variety of reasons. BAF did not having a wide margin for error. A cross-genre fantasy year's best that focused not just on genre magazines but also on literary magazines, that required sympathy and generosity from both the mainstream and genre, as well as the right placement in the chains, was always going to be a difficult sell.
New series editor Larry Nolen has posted the short list of stories under consideration for the unpublished fourth volume here — including fiction from Richard Parks, Sean McMullen, and Catherynne M. Valente, and four stories from Clockwork Phoenix 2.