A whole new meaning to "A Room full of Books"
A whole new meaning to "A Room full of Books"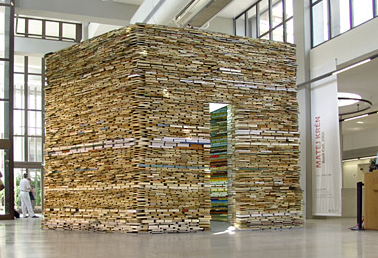 Prague-based artist Matej Kren has created a room made almost entirely of books. It is part of the city gallery of Bratislava.
The giant sculpture, called Passage, also uses mirrors and special lighting to create a "surreal chamber of texts."
Kren is known for creating a series of gigantic book sculptures. Passage is part of a wider series called "Book cell" — structures and spaces built entirely out of thousands of books.
The photo at left remind us rather strongly of the brick house built by the third little pig (you know, the industrious one). No word yet on just how well it holds up to strong breezes and wolfish intruders.