Black Gate 14 Sneak Peek: "On a Pale Horse" by Sylvia Volk
Black Gate 14 Sneak Peek: "On a Pale Horse" by Sylvia Volk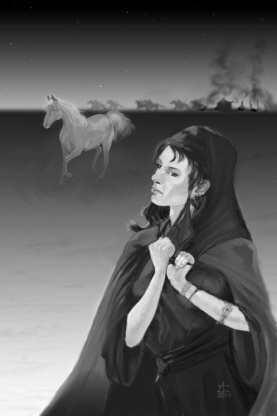 Once a Bedouin girl tamed a crooked stallion — and the Arabian breed was born. A tale of legend and desert war.
     Behind her, Salsabil heard the drumming of hooves. At the awning of the family tent, with her pursuer thundering after her, she whirled. Sand sprayed under her heels. She stood tall, flinging up her arms.
      The mare came charging downhill at full speed, head tucked close against her chest and hooves crashing through the loose scree. Straight at her. Salsabil stood like a rock. Her sight grew dim. Her outstretched fingers trembled. But she did not move.
     At the last instant, with her nose barely an inch from the girl's breast, the war-mare stopped. She flung her elegant head high, danced before Salsabil upon hooves smaller than the feet of a girl-child. And Salsabil gazed up and up at the rider on the mare's back.
      She looked into his bearded face, and fear struck her in the heart — for it was the face of a skeleton. But she could not allow him to pass.
Sylvia Volk was born in western Canada. This is her first published story.
 "On a Pale Horse" appears in Black Gate 14. You can read a more complete excerpt here. The complete Black Gate 14 Sneak Peek is available here.
Art by Aaron Starr.