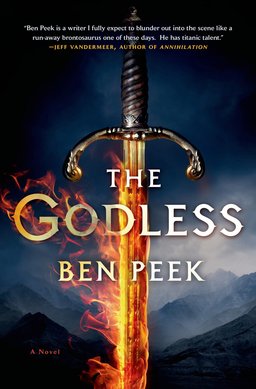 A fresh, fascinating story hides in this book. The gods are dead — their bodies litter the earth — but their powers leak into the lives of mortal men and women. And sometimes, tragically, children. Deific power is messy. One sprouts extra limbs, trails plagues in one's wake, or combusts and takes out whole buildings. It's a curse, isn't it, to bear such power?
Ayae, a young apprentice cartographer, took refuge in a city built on a dead god's bones when her homeland fell. Now an army of fanatics marches on her new home and those fanatics seem to want to wake the dead gods. What will Ayae do now that she's cursed with the local god's power over fire? She could be a doomsday weapon or a loose cannon that destroys the people she cares about. Her best hope for help in mastering her powers is a man so old he remembers the world as it was before the gods died, fifteen-thousand years ago. He's been wise. He's been mad. He has done terrible things with the power that curses him. Ayae wants to trust Zaifyr, but he doesn't always trust himself. The dead — human and divine — talk to him, and the dead have their own agenda.
Alas, the story is hiding, not in the sense of requiring a brisk readerly workout to piece the clues together, but rather in the sense of having been copyedited so poorly that it's hard at times to figure out what the author is trying to make many of the sentences say.
I've written reviews before of books with lots of promise that could have used one last pass of polishing. This is not that.
---