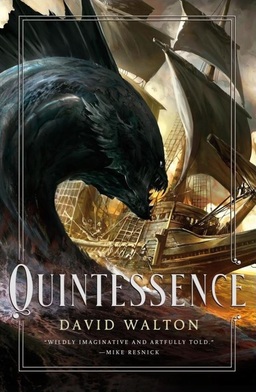 Quintessence is a story of the Age of Exploration, as it might have unfolded on a literally flat Earth where some of the wilder alchemists' ideas were right. Here there be dragons. If you list all the cool stuff in this book, it looks like a sure bet for most fantasy readers: voyages at sea (doomed and desperate), houses of solid diamond, heresy, plucky young people changing the world, and monsters. Lots and lots of monsters.
In attitude, character, and pacing, however, the book feels more like science fiction in the tradition of John W. Campbell. I grew up reading that stuff — odds are that you did, too — so I found a great deal to enjoy in Quintessence. Just not quite the things I came to the book hoping to enjoy.
David Walton's bestiary is worth the price of admission. The man knows how to fill a fanciful ecosystem, and if he had found some comic artist to collaborate with and had published a volume of the characters' field notes, it would have been its own weird hit.
Perhaps if the creatures had been less gloriously inventive, the characters would have felt more vivid. As the book stands, the characterization falls far enough behind the worldbuilding for the characters to feel at times like types out of Commedia Dell'Arte. That is, if Commedia Dell'Arte had been invented by John W. Campbell.
We have our earnest scientist and our mad one. We have our plucky maiden and her plucky suitor, both brilliant engineers whose talents for tinkering had gone unnoticed back in England. We have a sort of Greek chorus of thinking men whom the earnest scientific hero forms into a discussion society for brainstorming and peer review. For villains, we have a smarmy politician and a religious fanatic, who care nothing for science.
---