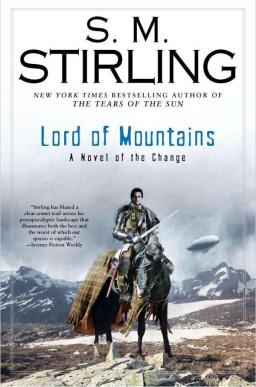 This blog has discussed S. M. Stirling's Emberverse in some detail for the past several months. Beware spoilers as we move on to Lord of Mountains, Stirling's 2012 addition to the series.
The logical second third of the post-quest novel Tears of the Sun, Lord of Mountains is the Act II confrontation that follows logically from the Act I setup, and coming before The Given Sacrifice's Act III, resolution. That these three chapters, published separately as novels, did not appear together under the same cover is a pity.
As previously discussed, the amount of "recap" material included with each is now crippling any loyal reader's enjoyment of the texts. In fact, even new readers now feel the grit in the gears, as every time a character new to the individual text — for example, the first time Ingolf the Wanderer appears in Tears, Lord, and Given paragraphs of material is provided to foreground the character. Unfortunately, that background is now long behind Ingolf, and the current action of the narrative. And besides, how many readers are genuinely picking up the Nth book in this series, cold? And need to be reminded? Like, that one guy in Missouri, right? Yeah, you in the hat.
Would that this need be done only one time in one larger novel of three parts. First, the overall text would shrink considerably. Second, the sense of immersion would increase (and loyal readers of this blog remember what value we genre readers place on immersion, right?). Third, the narrative would flow more naturally.
As a Bush-era Secretary of Defense once opined, one goes to war with the army one has, not the army one wished one had. This sentiment is echoed by a character in Lord of Mountains, and it applies to the novels, or extended chapters, that continue to arrive annually. Perhaps in some future republication they can be packaged together, but even then would it pay for Stirling to take the time to thin the herd of redundant descriptions? Surely not.
---