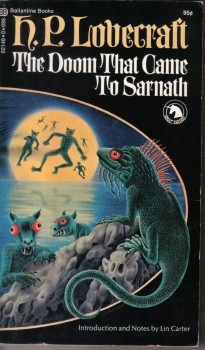 The Doom that Came to Sarnath
H. P. Lovecraft
Ballantine Books (280 pages, February 1971, $0.95)
Cover art by Gervasio Gallardo
The Doom That Came to Sarnath was the second volume of H. P. Lovecraft stories published under the BAF imprint. It served as a bridge between the Dunsanian fantasies of The Dream Quest of Unknown Kadath and the Cthulhu Mythos related titles that followed.
Many of the stories in this volume weren't published until years after they were written or were published in amateur press publications of the day. These days, we'd call them fanzines. The contents include the aforementioned Dunsanian fantasies, some traditional horror stories, and some early Mythos tales. Also included are a few prose poems and one selection of Lovecraft's verse.
Rather than give a brief description of each of the 20 items in the book, I'll highlight some of the ones I liked best, then offer some general thoughts. Carter broke the selection up into groups loosely based on either chronology or theme. I'm not that organized.  I'm also not a Lovecraft scholar, so I'm not going to comment much on the specific chronology  of the stories or try to get into the nitty gritty of Lovecraft's authorial evolution.
---