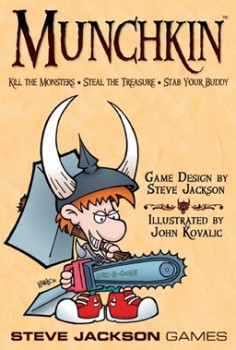 Today, we're going off topic to talk about the funnest (Most fun? More fun than any other?) game I play, Munchkin.
Those of us old enough to remember micro games recognize the name Steve Jackson as the creator of OGRE. This tiny little "board game" with the flimsy cardboard pieces launched the micro game market. As the founder of Steve Jackson Games, Jackson has produced a great many board and role playing games, including his own RPG system, GURPS (Generic Universal Role Playing System).
Back in 2001, Jackson released Munchkin, a fantasy parody card game with the motto, 'Kill the monsters, steal the treasure, stab your buddy.' For several years, I looked down on Munchkin as a cheap attempt to cash in on the RPG field. Then a friend bought the original Munchkin game last year. Boy, was I wrong!!
Munchkin (which comes in several variations), is flat out the most fun I've ever had playing a board or card game. It can be played by two, but as I'll explain below, it really only clicks with at least three. The 'helping' dynamic doesn't have nearly as great an impact in a two player game and things can get a bit flat. But with a third, it's no holds barred.
---