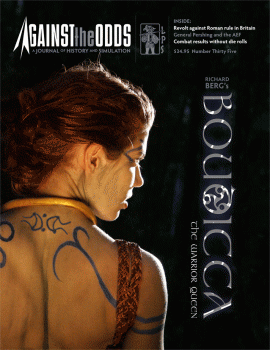 I discovered something fascinating while I was trolling eBay for vintage fantasy board games this morning: Against the Odds, a magazine published out of Southeastern, PA, which includes a complete game in each issue.
Now, it's true that I get a little giddy around magazines. If I didn't, I wouldn't have published one for a decade. And I also love games. So magazines that include games? I had to go have a bit of a lie down.
Against the Odds is a quarterly periodical of history and simulation, and it looks remarkably similar to the great gaming magazines published by SPI, Strategy & Tactics and Ares, both of which included a game with each issue. Ares, published between 1980 and 1984, was one of my all-time favorite magazines. In that short span it brought over a dozen highly regarded games into the world, including Barbarian Kings, Star Trader, Nightmare House, The High Crusade (based on the Poul Anderson novel), Citadel of Blood, and many others. All 17 issues are currently available as free PDFs at Archive.org.
Against the Odds doesn't have the same focus on fantasy and science fiction as Ares, but that doesn't mean it's not fascinating. The first issue I came across, #35 (December 2011), includes the game Boudicca: The Warrior Queen, featuring an historical clash between the Roman Empire and a loose collection of Celtic tribes on the barbaric island of Britannia in 61 A.D.
She meant "trouble" for the Roman occupation of Britain. After her revolt succeeded in burning three major towns and slaughtering tens of thousands of Roman citizens and allies, the Emperor Nero seriously considered whether this distant land was worth the cost to stay. Governor G.S. Paulinus' remarkable victory – perhaps at the location later known as "Watling Street" – reaffirmed Roman domination. They would remain in Britain for over 300 more years.

But it might have been different. Can you as the leader of a various cluster of independent Celtic tribes cause enough trouble and loss to make the Romans leave your island? Can you as the commander of scattered Roman troops snuff out the rebellion more effectively than Paulinus? Will London burn or be saved? These are your challenges in ATO issue #35, Boudicca: The Warrior Queen by Richard Berg.
---