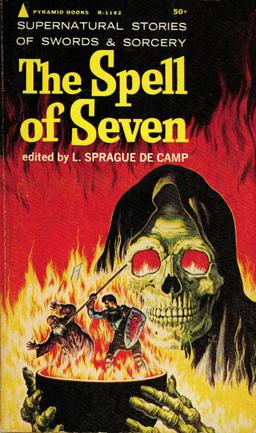 It takes real effort to keep on top of even a fraction of the exciting new work in the fantasy genre every week. Between the print magazines, online outlets like Subterranean and Beneath Ceaseless Skies, paperbacks, hardcovers, and self-published and independent work from talented folks just outside mainstream publishing, it's exhausting. Luckily, it's also extremely rewarding, and I feel fortunate indeed to be part of such a lively and vibrant branch of literature.
Of course, there are also weeks when I say, "The hell with it," and settle in with a great vintage paperback.
This was one of those weeks. And the book that lured me away from the latest crop of promising new writers clamoring for my attention was L. Sprague de Camp's The Spell of Seven, a slender sword & sorcery anthology from 1965.
I'll admit up front that I thought that The Spell of Seven was a standalone title. I'm a child of the late 20th Century; when a book is part of a series, I expect the publisher to sell me on that up front. (It's easier to mug me for more money that way.)
Fortunately, I have the collective hive-mind of Black Gate to call upon. One of the great lobes of that mind is Brian Murphy, who pointed out that the book was a follow-up to De Camp's seminal S&S anthology Swords and Sorcery, and part of a successful series that would eventually evolve into a four volume survey from Pyramid Books covering the most important heroic fantasy of the time.
Here are Brian's comments, taken from his 2011 review of The Fantastic Swordsmen.
---