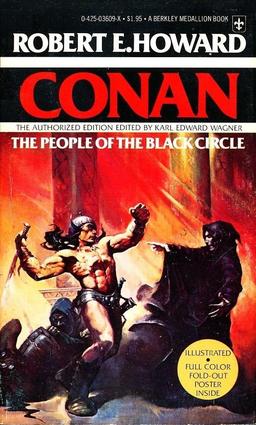 Fantasy is generally about power. Who wields it, who wants it, and the price they pay for it. Magic (the supernatural world) is often the metaphor used for power in fantasy lit. But there are plenty of other kinds, such as fighting prowess, political power, and so on, that can also be incorporated.
In fact, what a fantasy story says about power is usually one of the most important elements to me.
In Robert E. Howard's Conan series, Conan represents the superiority of the barbarism over decadent civilization, and also the power of the individual against society. He is the fulcrum that swings the balance of power away from the rich nations by the force of his will and the strength of his arm. Until, of course, he eventually comes to rule one of those soft civilized nations….
In The Black Company, Glen Cook creates an epic saga about a company of grunts trying to survive during a massive war between supercharged sorcerers. Not only do the soldiers of the Black Company survive, they manage to thwart the wizards and witches who try to use them, showing that the common man and woman are the true shapers of history.
Steven Erikson's The Malazan Book of the Fallen features a stunning array of factions and individuals across many levels of society, many of them jostling for power and some just trying to stay out of the way.
My own Book of the Black Earth series has only just begun, but already in the first book I've laid down the underlying conflict of rival powers. Religious cults vie with secular government. City-states compete for regional power. Individuals strive against the institutions of slavery and caste in a world where sorcery is the province of the ruling class.
---