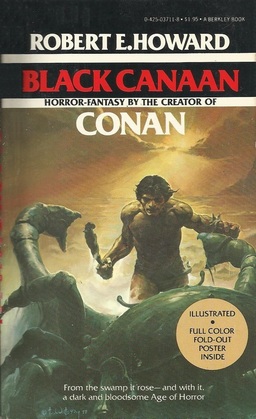 He was clad in ragged trousers, but on his head was a band of beaten gold set with a huge red jewel, and on his feet were barbaric sandals. His features reflected titanic vitality no less than his huge body. But he was all Negro — flaring nostrils, thick lips, ebony skin. I knew I looked upon Saul Stark, the conjer man.
– "Black Canaan," by Robert E. Howard
A poor man, a black man, but still a king. A king with a realm he carved out himself.
In my first story collection, The Jack Daniels Sessions EP, there is a novella about a young boy who sees dead people. Very original, I know. The gist is that he has shamanist powers that have lain dormant in his genes. At one point, he is told a story about a plantation shaman who empowered the slaves with his magic, enabling them to sabotage the farm. There is also a legend about runaways joining up with Indians in the swamp, my own riff on the Black Seminoles. The boy's exposure to his African roots is an uncomfortable one for him, sometimes physically so, as it is a part of his lineage he had no awareness of.
The episodes of slave revolt are based on history. It was also history I had to seek out myself. The teaching of black history in schools is such an insidious con job, it angers me to write about it. Fifty years ago, there were downtrodden blacks, then good white people passed laws and they could sit at a lunch counter. One hundred and forty-six years ago, there were slaves, then good white people passed a law and they were free. (Oh, I'm sorry, I forgot that slavery ended 500 years ago, or 600, or whatever it is now.)
The most we learned about slavery in elementary school was the cakewalk, and that as a form of cornpone entertainment, not the satire on whites that it was. American history classes largely leave out the stories of blacks' role in their own liberation. They also leave out any information on Africa, continuing the stereotype of the continent as a savage place, not the fertile land of kingdoms it was prior to colonization.
Ironically, one of my earliest introductions to black liberation was a story by someone decried as a racist, Robert E. Howard's "Black Canaan."
---