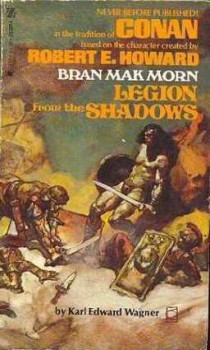 For those raised in this day of pure unadulterated Robert E. Howard texts, it may interest you to learn that once upon a time a flourishing industry of pastiche publication existed. There were only so many Howard stories to satisfy hordes of swords & sorcery fans, so the powers that were created more. Sprague de Camp and Lin Carter, the masterminds as it were, behind the pastiche industry were either greedy exploiters of Howard's legacy or passionate fans who saw the need for further Howardian adventures. As a fan myself at the time, I was quite happy to buy and read a lot of them. Most weren't better than alright but they scratched an itch.
De Camp (who fiddled mercilessly with Howard's own short stories) and Carter wrote some of the weakest pastiches. For all his involvement with Howard's fiction, de Camp never seemed to understand its nuance and why it worked. By education he was an engineer, and the need for things to be logical and systematic undermines his fiction. Carter, sadly, just didn't have the talent to mimic the writer whose work he loved so dearly.
Unknown Swedish author, Bjorn Nyberg wrote The Return of Conan (1957). Decades later famous authors such as Poul Anderson and Andrew Offut tried their hands at the game. Howard Andrew Jones wrote a good piece on the pasticheurs a while back. Eventually a critical mass of fans and academics rose up, rightly so, to decry the inferior copies — and really, most were — of Howard's creations.
There's one Conan pastiche novel I remember truly liking: The Road of Kings (1979) by Karl Edward Wagner. It was good; equal parts dark and exciting. You can read Charles Rutledge's review from a few years back here.
---