Future Treasures: Princess Decomposia and Count Spatula by Andi Watson
Future Treasures: Princess Decomposia and Count Spatula by Andi Watson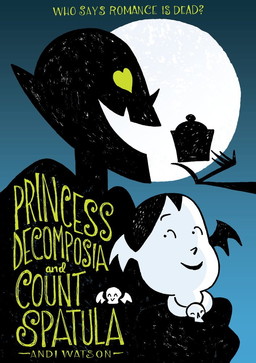 Sometimes it seems that all my fifteen year-old daughter reads is manga (well, that and fan fiction.)
That's probably not true — I spot her with paperbacks from time to time. But it is true that manga is still extremely popular, especially among teens. I'm seeing a lot more US comics mirroring the format, too — compact comic volumes that fit nicely in the palm of your hand. The latest is Princess Decomposia and Count Spatula, a light-hearted gothic fantasy of an overworked princess of an underworld kingdom populated by ghosts, vampires, and werewolves.  Andi Watson's deceptively simple artwork is well-suited to the tale. The only negative is that it won't be available until February — a pity, as it would make a fine Christmas gift.
Princess Decomposia is overworked and underappreciated.

This princess of the underworld has plenty of her own work to do but always seems to find herself doing her layabout father's job, as well. The king doesn't feel quite well, you see. Ever. So the princess is left scurrying through the halls, dodging her mummy, werewolf, and ghost subjects, always running behind and always buried under a ton of paperwork. Oh, and her father just fired the chef, so now she has to hire a new cook as well.

Luckily for Princess Decomposia, she makes a good hire in Count Spatula, the vampire chef with a sweet tooth. He's a charming go-getter of a blood-sucker, and pretty soon the two young ghouls become friends. And then…more than friends? Maybe eventually, but first Princess Decomposia has to sort out her life. And with Count Spatula at her side, you can be sure she'll succeed.

Andi Watson (Glister, Gum Girl) brings his signature gothy-cute sensibility to this very sweet and mildly spooky tale of friendship, family, and management training for the undead.
Princess Decomposia and Count Spatula will be published by First Second on February 24, 2015. It is 176 pages, priced at $19.99.