The Top 50 Black Gate Blog Posts in February
The Top 50 Black Gate Blog Posts in February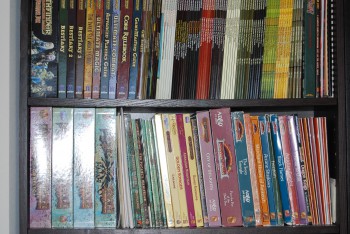 February is cold here in Chicago. Stay-at-home-or-you'll-die cold. A good time to gather inside with friends and family, put hot cocoa on the stove, slip a movie in the Blu-ray player, and then forget all of that because there's something fascinating on the Internet.
We had plenty of fascinating things to offer here at the Black Gate blog in February. Scott Taylor took at serious look at the downside of collecting in "The Weight of Print," Matthew David Surridge examined Shirley Jackson's The Haunting of Hill House, Mark Rigney revealed the surprising results of the John Piece Experiement as applied to fantasy, author Violette Malan explained How to Put the Sword in Sword & Sorcery, and Sarah Avery offered up another installment in her popular Teaching and Fantasy Literature series with "Weird Things My Students Have Been Told About Writers."
And that's only the Top Five. The complete list of the Top 50 posts in February follows. Enjoy — but not so much that you neglect your houseguests, please. Or let hot chocolate overboil on the stove.
The Top 5o Black Gate blog posts in January are here.