14 Questions for S.M. Stirling
14 Questions for S.M. Stirling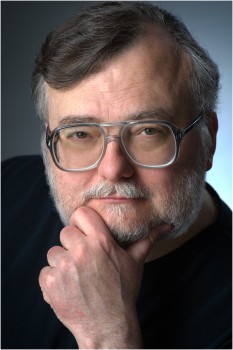 I've known S.M. Stirling, or Steve as his friends call him, for ten years now. He and I were in the same writers group in New Mexico, called Critical Mass, and I believe I've read exactly eight-five kajillion of his words. A rigorous editor and rewriter of his own work, he'd often dwarf the rest of our submissions for the month. It's been my privilege to watch from this vantage point as he climbs the sales charts, from a well respected niche writer to now a New York Times bestselling one.
Unfortunately, my move from New Mexico to London ended my time in Critical Mass, but not the friendships or the contact, thanks to the miracles of modern technology. Steve's career continues to move from strength to strength as he fleshes out his Emberverse series. Set in a future in which some of the laws of physics have taken a vacation, humanity must live without electricity, gunpowder, or even steam power. Any attempt to harness these old technologies falls flat. Magic and mythical visions, however, gain strength with each passing year. To me, this a brilliant fantasy premise that makes use of the science fiction conceit, "it could happen someday". The characters learn to make castles out of concrete and swords out of scrap metal. SCA members find their fluency in Tolkein Elvish and armor making skills useful in a way they never imagined. Wicca becomes a mainstream religion, and a history professor who once worshipped the despots of old becomes one. Whether you've actually made your own chain mail, or merely think that's a cool idea, you should give his books a try.
The main character of the latest series is Rudi Mackenzie, who was born after the Change to the High Priestess of a Wiccan community. As myth becomes prophecy, he finds himself walking in the footsteps of Artos of old.
An Interview with S.M. Stirling
Conducted and Edited by Emily Mah, October 2011
Emily Mah: First off, can you talk about your latest releases and/or soon to come releases?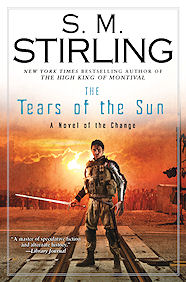 S.M. Stirling: The Tears of the Sun is just out. This is the sequel to The High King of Montival and it's about Rudi Mackenzie — now High King Artos the First — and his friends, relatives and enemies as he struggles against the Church Universal and Triumphant and its Prophet, Sethaz. There are also flashbacks, and sort of flash-forwards to fill in what was going on while he and his companions were on the Quest to Nantucket for the Sword of the Lady.
Right now I'm working on Lord of Mountains, which has the (sort-of) climactic battle… which does -not- solve all his problems! There are gliders, galleys, balloons, daring deeds, tragedy, a king-making in what's now a National Wilderness… all sorts of good stuff.
You once joked to me that after decades of hard work, you were an overnight success. You've sold a lot of books in your lifetime. At what point were you willing to call yourself a success?
Well, as a rough rule of thumb, I'm a commercial success now that I'm regularly hitting the NYT and other bestseller lists. And I'm making as much money as I would if I'd stayed in law and done reasonably well. The reason I was willing to face a lifetime of scrimping and just getting by was of course that I really -wanted- to write, and still do. Unlike most people I can wake up in the morning and say "Oh, good, I get to work today".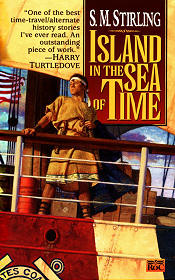 But the success is certainly welcome. This is my work, as well as my calling.
I've heard you tell the harrowing story of how Island in the Sea of Time almost didn't get published. Would you share it with our Black Gate readers?
Well, the publisher strongly objected to certain aspects of it; primarily, the race and sexual orientation of a major character. He thought that this would make reader identification too difficult, and wanted it completely rewritten. I disagreed, obviously. In fact, I was convinced that this was my best work to date and the start of a new phase in my work. After much discussion, which got quite heated, I pulled the book and paid back the advance — which, since I was utterly broke at the time was a bit of a struggle, to put it mildly. Instead I got an agent (the incomparable Russ Galen) and he shopped it around after reading it and liking it. At the time he mentioned that there were only two ways to get him to read a 1000-page manuscript; either he liked it a lot, or I was holding a .45 to his head. [Interviewer's note: I hope I don't need to tell you which of the above was the case?]
(Harry Turtledove recommended me to Russ, for which I'm eternally grateful.)
It sold quickly — several publishers expressed interest, in fact. Russ recommended going with ROC/Penguin, a very shrewd decision which I have blessed repeatedly since. Both my editors at ROC, Laura Anne Gilman (since retired to write full-time) and Ginjer Buchanan, have been joys to work with.
And since Island in the Sea of Time is now in its 25th printing since the first in 1998, I feel my judgment has been vindicated!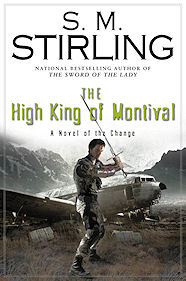 Still, I don't regret my initial spell with Baen Books, either. Jim did me a lot of good when I was starting out, and I'm sorry we quarreled. He's done the field good, too, and his company continues to do so.
And how many books have now spun off the events of Island in the Sea of Time?
Two directly; Against the Tide of Years and On the Oceans of Eternity.
Then there are the "Change" or "Emberverse" novels; what happened back in 1998 when Nantucket was sent back to 1250 BCE in Island. Those are:
Dies the Fire
The Protector's War
A Meeting at Corvallis
The Sunrise Lands
The Scourge of God
The Sword of the Lady
The High King of Montival
The Tears of the Sun
Next year will be Lord of Mountains, and then Rudi's story arc will continue into The Given Sacrifice.
There may well be more novels set in this universe; I designed it to have lots of scope.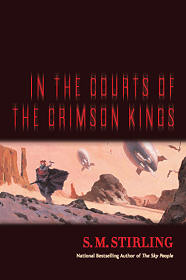 Have you got any more books under contract for the Lords of Creation? That series is my personal favorite.
Not at present, just The Sky People and In the Courts of the Crimson Kings. I loved doing them; they were my homage to SF's history. But I had to take a bit of a hit to do them, and they sold well but not spectacularly. Since there are an almost infinite number of books I'd enjoy writing…
You've lived quite a lot of places in your lifetime. How have your experiences living all over the world informed your fiction?
Well, I was born in France; I've lived there, in Europe, in Canada, the United States, and Africa. Visited a few more places as well; India (long visit for a wedding in Bangalore a few years ago), and so forth.
You do get a visceral sense of human variability. And it disabuses you of notions that growing up in the comfort and security of the middle-class West can engender; I remember seeing famine victims in the street when I was a teenager, for instance.
My father was a Newfoundlander (it wasn't part of Canada when he was born) and my mother was English-born, but raised in Peru from infancy until she met and married my father during WWII.
What made you decide to become an American and settle in New Mexico, a happy coincidence for me?
Climate, frankly! I enjoyed Toronto but the gray, gray, gray winters were giving me SAD. And Santa Fe appealed to me; it was love at first sight. Since my wife Janet is American, moving was fairly easy; of course, a writer can work virtually anywhere.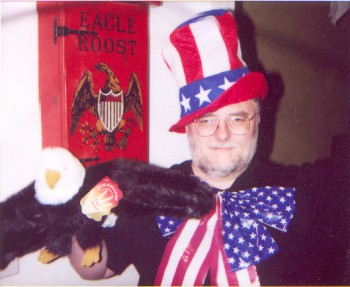 Do you still have that picture of you getting your eyes pecked out by a bald eagle puppet at your citizenship party? Can I post it?
It's around somewhere… go ahead if you have a copy!
[Interviewer's note: Alas, I can't find the one where he pecked his own eyes. I have only this tamer version, in which he merely wears the bald eagle puppet, an Uncle Sam hat, and a bow from one of the presents at the party. I am still searching for the eye-pecking version. There is a reward, specifically, you get to see that picture. As these were taken in George RR Martin's living room (we celebrated his birthday at the same time as Steve's citizenship), I think they are valuable artifacts that should go down in fantasy geek history.]
Your Emberverse series has a lot of mythological influences. How do you go about your research for this, or are the myths and legends the inspiration for these storylines?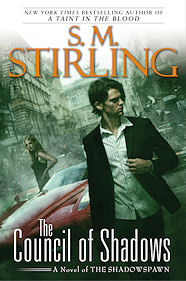 I've always been fascinated by the myths, and go spelunking for details as necessary (or consult experts). Myths are how we talk to ourselves about the world.
You do a lot of your research for your books through personal connections, having people who are similar to your characters in religion and worldview give guidance on scenes. How do you find these individuals, and how do you usually work with them?
I've found most through friends of friends, and some of them have become friends in turn — like Kier Salmon out West, for example, who has been a consultant on the Old Religion and a good deal else (she's a translator with a lot of medical knowledge). Steve Brady in England is a naturalist, a Morris dancer, and very good at British dialects.
Using first readers like that helps you avoid what I call false-knowledge errors. As the saying goes, it ain't what you don't know that'll get you, it's what you think you know that just ain't so.
Then there's yourself, Emily… 8-).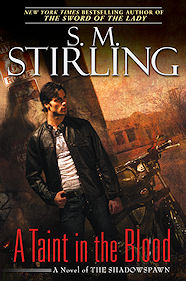 I've heard you lament your bad cover karma earlier in your career, but lately you've had some fantastic covers. Which is your favorite and why? Which was the worst you ever had?
My worst! That's a difficult choice! Perhaps Snowbrother, my first — but that was a rather crude book, so perhaps it deserved the armor with breast-cups and a navel. And there was Under the Yoke, where I have it on good authority the artist was stoned; mind you, that might have been appropriate. The Stone Dogs has a cylindrical asteroid on the cover, which the publisher requested be made "more sexy."
My favorite is usually the latest; I've had good luck lately. Perhaps the cover for In the Courts of the Crimson Kings, which I thought caught the atmosphere of the book perfectly.
Though you've written a lot all the years I've known you, the past few years, you've been on fire, producing reams of original and innovative fiction. To what do you credit this? It's been incredible to watch.
I've gone from being a burst writer to having a more definite routine; get up, go have lunch, write for several hours, go to the gym with Jan, come home, write some more.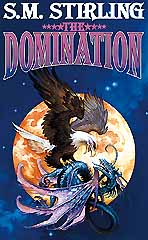 Despite all the years I've known you and your wife, Jan, whom you clearly adore, I've never heard how you two met. Is that something you can share?
We met at the Baltimore WorldCon in the 1980's, but were comatose — I'd been turfed out of the hotel room I was sharing (literally a matter of coming out of the closet; that was where I'd been sleeping… in a closet), so I was up all night in the video room watching "Battleship Yamato" over and over. We sort of stared at each other blearily. The next year at World Fantasy in Ottawa we -really- met, and then conducted a long-distance romance via conventions; I proposed at the World Fantasy in Memphis.
[Interviewer's note: Jan Stirling is also an author. Her short story The Lady's Apprentice appeared in Issue 14 of Black Gate.]
I get an email every now and then asking if you named your Premier Mah character after me. I have to assume not, given you usually name characters after historical or mythological figures. Care to set the record straight?
Well, actually, Emily, she IS named after you. It was a throwaway. It's an alternate universe, after all…
---
Well, you heard it here first, or even if you didn't, I did! Many thanks to Steve for taking the time to answer these questions. Now I suggest you go read one of his books, if you haven't already.
– Emily