Black Gate 15 PDF Version Now Available
Black Gate 15 PDF Version Now Available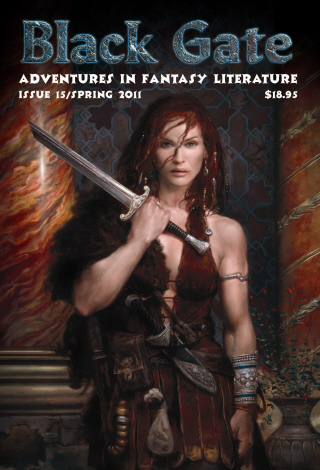 The PDF version of Black Gate 15 is available for immediate purchase from our online store.
BG 15 is $8.95 in PDF for a single copy, and is also available as part of a two-issue subscription ($16.50) or four-issue subscription ($29.95). For print subscribers the cost is even lower: just $4.95 for a single PDF, and $8.50 for a two-issue sub.
All those with an existing PDF subscription have now been sent a unique download link. If you have a PDF sub and have not yet received one, contact us at sales@blackgate.com.
BG 15 is another massive issue: 387 pages of fiction, reviews, and articles. It contains 22 stories, totaling nearly 152,000 words of adventure fantasy. An intrepid prince conducts a daring raid to intimidate a sinister monarch in "An Uprising of One," by Jamie McEwan. Three brothers undertake a dangerous voyage to find a new god for their village in Rosamund Hodge's "Apotheosis." And two skilled soldiers find that a simple delivery for a necromancer is never simple in "A Pound of Dead Flesh," by Fraser Ronald.
Plus the sequel to "The Beautiful Corridor" (BG 13) by Jonathan L. Howard, a lengthy excerpt from the blockbuster Dabir & Asim novel The Desert of Souls by Howard Andrew Jones, and new fiction from Harry Connolly, John C. Hocking, John Fultz, Vaughn Heppner, Darrell Schweitzer, Michael Livingston, Frederic S. Durbin, Chris Willrich, Maria V. Snyder, and many others!
In our non-fiction features Mike Resnick looks back at the best in black & white fantasy cinema, Bud Webster turns his attention to the brilliant Tom Reamy in his Who? column on 20th Century fantasy authors, Scott Taylor challenges ten famous fantasy artists to share their vision of a single character in Art Evolution, and Rich Horton looks at the finest fantasy anthologies of the last 25 years. Plus over 30 pages of book, game, and DVD reviews, edited by Bill Ward, Howard Andrew Jones, and Andrew Zimmerman Jones — and a brand new Knights of the Dinner Table strip.
The complete Table of Contents for the issue is here.