Birthday Reviews: Frank Belknap Long's "Willie"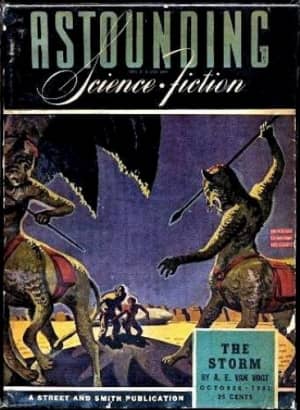 Frank Belknap Long was born on April 27, 1901 and died on January 3, 1994.
In 1976, Long was nominated for three World Fantasy Award for his study Howard Phillips Lovecraft: Dreamer on the Nightside, his collection The Early Long, and received his second Lifetime Achievement nomination. He would eventually receive the Lifetime Achievement Award from the World Fantasy Award in 1978 and form the Bram Stoker Awards in 1988. In 1977, he was inducted into the First Fandom Hall of Fame.
"Willie" first appeared in the October 1943 issue of Astounding Science-Fiction, edited by John W. Campbell, Jr. It was reprinted in 1979 in Night Fear, a collection of stories by Long. In 1999, August Derleth included it as an example of a time travel story in New Horizons: Yesterday's Portraits of Tomorrow. It was also reprinted in 2010 in the Centipede Press volume Frank Belknap Long, part of its Masters of the Weird Tale series.
Although the story is called "Willie," the central character begins by thinking of himself as simply "Twenty-ninth Century Man." He eventually learns that he is known as Agar, although he also has the identity of Monitor 236, a position of responsibility and dignity. Despite all of these identities, he is never quite clear who he is or how he fits into the primitive society in which he finds himself in. He does know that it is his responsibility to protect the people of the city.