Birthday Reviews: William F. Nolan's "Starblood"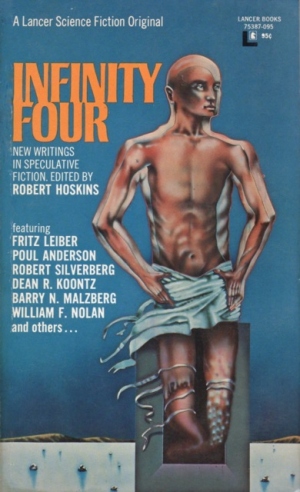 William F. Nolan was born on March 6, 1928. He is best known for his novel Logan's Run, which was turned into an Academy Award winning (and Hugo nominated) movie, as well as a television series that ran for one season. Nolan also wrote three sequels to the original novel, the most recent of which, Logan's Mission, appeared in 2017.
Nolan has received the Bram Stoker Award for his non-fiction book Nolan on Bradbury: Sixty Years of Writing about the Master of Science Fiction, as well as a Lifetime Achievement Award. He has received a Living Legend Award from the International Horror Guild, a Grandmaster Award from the World Horror Convention, a Special Convention Award from the World Fantasy Awards, and in 2006 he was named an Author Emeritus by SFWA.
"Starblood" first appeared in the anthology Infinity Four, edited by Robert Hoskins in 1972. It was also picked up by Forrest J. Ackerman and Pat LoBrutto for Perry Rhodan #102: Spoor of the Ants. Nolan has also included the story in several of his own collections, including Alien Horizons, Wonderworlds, Things Beyond Midnight, Dark Universe Stories: 1951-2001, Nightworlds, and Wild Galaxy.
The majority of "Starblood" presents the lives of six individuals in six short chapters. In each case, the main character dies suddenly and violently, through assassination, accident, or murder. In the course of these vignettes, Nolan does not attempt to tie them together in any way. He does offer a few lines of dialogue at both the beginning and the end of the story which offers a frame that explains what is happening, although it is not entirely satisfying.
Bobby is an infant whose crying annoys his parents so much his mother drops him from an air car without remorse. Tris is a woman who joined a cult in which she was sexually assaulted; when the cult throws her out and won't allow her back in, she begs them to kill her. Morgan is killed in an ambush at night while he is fleeing his pursuers. David is a child who gets hit by a random car. Bax is killed at dinner by his dining companion and Lynda's father, a paid assassin, accepts a hit on his own daughter.
Nolan's world is bleak and unsympathetic, although he does toss out some interesting ideas about the future, notably the bookstore David is brought to (although given the selection of books recommended to the eleven year old, it is no surprise that he doesn't like books). The closing frame offers a small link for the different stories, but it does nothing to alleviate the darkness of those stories.