Birthday Reviews: F. Paul Wilson's "When He Was Fab"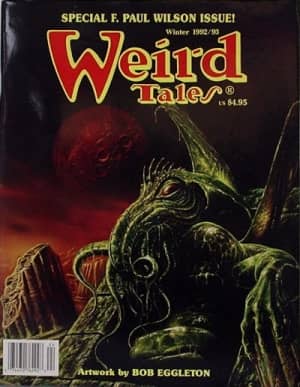 F. Paul Wilson was born on May 17, 1946.
Wilson won the Bram Stoker Award for his short story "Aftershocks" in 1999. He has been nominated for the award seven more times, and in 2009 he received a Lifetime Achievement Awards from the Horror Writer's Association. Wilson was named a Grand Master by World Horror Con in 2005. He received his first Prometheus Award in 1979 for the novel Wheels Within Wheels and in 2004 he won the award for the novel Sims. His Healer and An Enemy of the State won back-to-back Prometheus Hall of Fame Awards in 1990 and 1991. He was one of the Guests of Honor at the 2009 World Horror Convention in Winnipeg, Canada.
Although originally written with Thomas F. Monteleone's Borderlands 2 in mind, "When We Was Fab" was purchased by Darrell Schweitzer for a special F. Paul Wilson issue of Weird Tales, which appeared in Winter of 1992/1993. Wilson reprinted the story in his 2009 collection Aftershocks and Others: 19 Oddities. It has not otherwise been reprinted.
"When He Was Fab" starts out like many stories about an alien symbiote that takes over a hapless human, in this case, Doug, who works as a super for an apartment in Brooklyn. The symbiote attaches itself to him one day when he's cleaning out a clogged drain in the building's basement. The story is also about Marc, a New Yorker who has suddenly found himself part of the cream of New York night life, able to get into all the bars and the person the stars all want to be seen with. Despite the shallowness off Marc's live, he has found something that makes him happy and he tries to share what he has found with other people.
Wilson eventually brings Marc and Doug's stories together. In doing so, he takes the symbiote, which would normally be the villain or monster of this type of story and actually makes the creature, which appears as a thick goo, to be a more sympathetic character than either of the humans whose activities Wilson has been describing. When the symbiote appears to take ill, both Doug and the reader care about what happens to the creature.