Birthday Reviews: Wendy Rathbone's "The Beautiful People"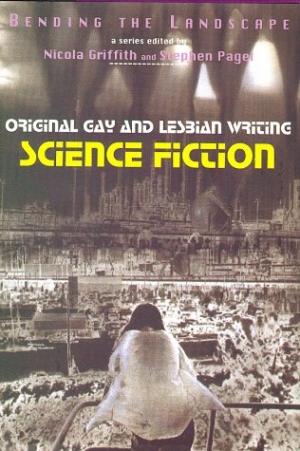 Wendy Rathbone was born on May 19, 1960.
Although Rathbone has published several short stories and some novels, she may be best known for her poetry, which has been collected in Moon Canoes: The Selected Poetry of Wendy Rathbone, Autumn Phantom, Turn Left at November, Dead Starships, and Unearthly: The Collected Poetry of Wendy Rathbone. Rathbone's poetry has been on the Rhysling ballot three times.
The only publication of "The Beautiful People" was in the 1998 anthology Bending the Landscape: Science Fiction, edited by Nicola Griffith and Stephen Pagel.
Rathbone's story looks at the relationship between Noah, a plain bartender, and Tam, the talented and attractive singer in a band. Both characters are outliers in a world in which people can undergo treatment to improve their looks and gain the appearance of perpetual youth. Noah refrains because he blames the treatments for his sister's suicide and Tam avoids the treatment because he feels he doesn't need them to look good.
As their relationship progresses, including marriage, Noah remains steadfast in his belief that the treatment is wrong and takes something out of people, while Tam seems to be increasingly concerned about his own imperfections, which Noah describes as extremely minor. However, Tam is a performer and feels the need to keep up with his competition and his bandmates, all of whom have undergone the treatment and are "naturally" impeccable, while he needs to groom himself to achieve even a semblance of a perfection he doesn't feel.