Birthday Reviews: Dave Wolverton's "We Blazed"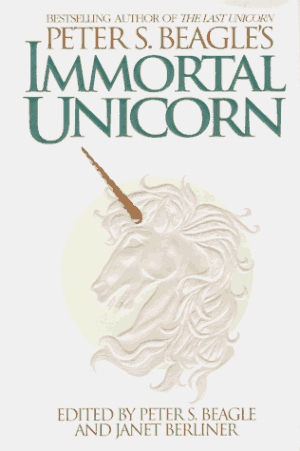 Dave Wolverton was born on May 15, 1957. He also writes using the pseudonym David Farland.
Wolverton won the Grand Prize from the Writers of the Future in 1987 to start off his career with his story "On My Way to Paradise," which he expanded to book length. The novel version received a special citation from the Philip K. Dick Awards. His novelette "After a Lean Winter" was nominated for the Nebula Award in 1997. After his wins and nominations, Wolverton served as a judge for both the Philip K. Dick Award and the Writers and Illustrators of the Future. His historical novel In the Company of Angels received the Whitney Award and he won the International Book Award for Best Young Adult Novel for Nightingale.
"We Blazed" was written for the anthology Peter S. Beagle's Immortal Unicorn, edited by Beagle with Janet Berliner, and Martin H. Greenberg. It was reprinted in the June 2011 issue of Leading Edge, whole number 61, edited by Chris Baxter. Later that year Wolverton re-issued the story as an e-book under his David Farland pseudonym.
Wolverton's "We Blazed" is a wonder of misdirection. Seemingly the story of an immortal man on a quest to find his equally immortal lover, Wolverton provides some wonderful twists. No reason is given for Alexander Dane's longevity, nor that of Kaitlyn, whom he is trying to find, but he walks through an Earth impossibly in the future, almost completely amnesiac except knowing that he is looking for Kaitlyn.