The Golden Age of Science Fiction: Barlowe's Guide to Extraterrestrials, by Wayne Barlowe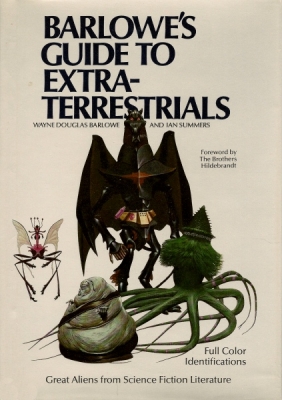 The Locus Awards were established in 1972 and presented by Locus Magazine based on a poll of its readers. In more recent years, the poll has been opened up to on-line readers, although subscribers' votes have been given extra weight. At various times the award has been presented at Westercon and, more recently, at a weekend sponsored by Locus at the Science Fiction Museum (now MoPop) in Seattle. The Best Art or Illustrated Book Award was only given in two years, 1979 and 1980 and was won by Ian Summers for Tomorrow and Beyond. In 1994, Locus introduced the Best Art Book Award, which was won by Michael Whelan for The Art of Michael Whelan: Scenes/Vision. The category has been dominated by the Spectrum series, which has won in all except six subsequent years. In 1980. The Locus Poll received 854 responses.
Wayne Douglas Barlowe and Ian Summers have created a catalog of aliens as described in numerous works of science fiction, by authors as diverse as Larry Niven, Ursula Le Guin, and Jack Vance. Each alien is according a two page spread in which the author and artist provide the name of the alien's race, the author who created them and the work in which they appear and a full page image of the creature. The aliens are also described and frequently Barlowe has illustrated details of their hands, textures, or other things that make each race unique.
The book includes a fold-out centerfold that shows 48 of the aliens more or less at their relative sizes, from the wormlike Mesklinites from Hal Clement's novel Mission to Gravity to Jack Williamson's jellyfish-like Medusians from The Legion of Space. Summers admits that in many cases the size comparisons are approximate since the authors often just gave hints about an alien's size relative to humans, who are also included in the comparison chart.