Teaching History through Wargaming: Strategy & Tactics #280: Soldiers 1918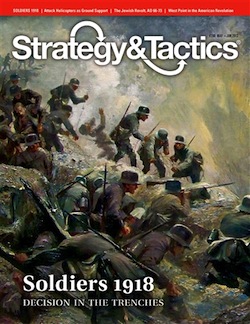 I've been a history buff all my life, and this interest led me to a career as an archaeologist before becoming a writer specializing in history and historical fiction. Thus it's not surprising that I want my ten-year-old son to have a firm grounding of history, even though he takes more after his astronomer mother and will almost certainly go into one of the STEM fields.
One of my main interests is World War One, so when I visited Belgium a couple of years ago for the centenary I brought him back some Belgian comics on the conflict. Now we're watching the excellent Channel Four series The First World War. I'm also vocally hoping he'll read my Trench Raiders series, so far with no luck! I've been pushing this particular era of history because we live in Madrid. Since Spain wisely stayed out of the war, I don't think the Spanish educational system will teach him as much about WWI as I think he should know.
So why not add a little extra knowledge through wargaming? He's been expressing an interest in it lately since his favorite comics shop has some wargaming tables, so I invested in issue #280 of Strategy & Tactics, a classic wargaming magazine that's older than I am. This issue comes with the game Soldiers 1918: Decision in the Trenches, which one BoardGameGeek labeled as "medium light" in difficulty.